November athlete spotlight: Sophie Chang
Senior Sophie Chang is currently a senior and co-captain of Fremont's Varsity Girls Basketball Team. She has been a part of the varsity team since her freshman year; although, she has been playing the sport for far longer than her high school career.  
"When I was in elementary school, my brothers played [basketball], so I really wanted to play too," Chang said. "They inspired me to get started."
Chang, who currently plays the guard position. Though it was not a very successful season, Chang remembers many memorable moments from that year.
"Freshman year we only won one game, but it was really fun," Chang said. "We didn't do very well that season, but that game we played really well."
 Basketball, like most team sports, requires a heavy time commitment, which can make it challenging to manage school and other extracurricular activities. However, this did not deter Chang's passion for the sport, and her work ethic is highlighted through her consistent attendance of practices.
"She comes to each practice ready to work," team mate Hayley Johnson said. "She has come to every practice that she can."
Chang makes it her goal to improve, constantly striving for excellence.
"Sophie is the type of person to work diligently through her work and try to not mess up on the first try and this 100% correlates to her work with basketball as well," senior and co-captain Trinity Lee said. "She is able to gather information quickly and recite it out properly with great ability."
Over the years, she has worked hard to develop her skills as a guard, and now is a key playmaker that leads the team.
"I've learned a lot about teamwork, collaboration [and] working with other people," Chang said.
Lee, who has been Chang's teammate since their freshman year, notes the growth Sophie has exhibited over the years.
"Being able to see Sophie both on and off the court, I noticed she gained a lot of confidence both as a player and a person," Lee said. "She allowed the confidence she has as a person to carry that into her gameplay which makes her a strong player. Along with her confidence is her integrity. She contributes a lot both in-game and in practice which makes her overall as a human being incredible." 
The Fremont Girls Basketball Team has had its fair share of setbacks, with many players on the bench due to injuries or sickness, but Chang is optimistic that this season will be promising with the addition of eight new players to the varsity team.
"I'm excited," Chang said. "It would be nice to have a winning record. Go to CCS. I feel like we have a good chance this year."
Though basketball has been a passion for a long time, Chang does not expect to continue playing after graduation. She aspires to become an athletic trainer, aiming to study kinesiology in college.
Leave a Comment
About the Contributor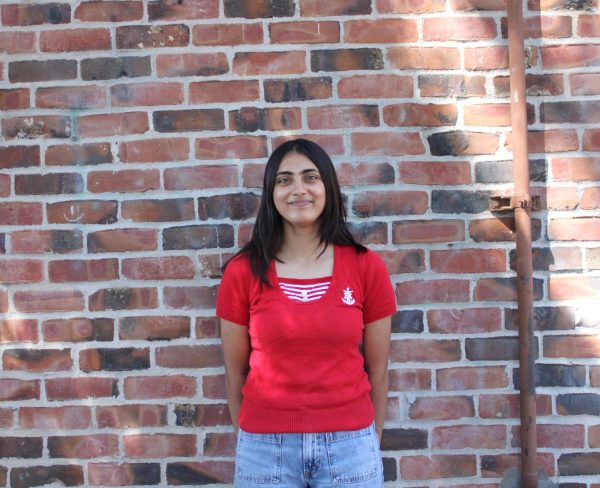 Smera Jain, News Editor
Smera, a junior, is an News Editor. She enjoys painting, playing guitar and watching TV in her free time.