Just Dance has many health benefits for players
Just Dance may be one of the most popular video games to date, but it is also a healthy way to exercise.  The first edition was released in November 2009, and it was originally titled after the Lady Gaga album. The game was instantly a hit, and a new version has been released every year since, each containing 40 of the past year's hit songs. As the game became more popular, the creators altered it to be played on Wii U, PlayStation 3, 4 and 5, Xbox series X/S, iOS, Android, Nintendo Switch and Microsoft Windows. Just Dance is a motion based game, with specific choreography for each song, with the goal being for the players to mirror the dance instructors on the screen. The higher the accuracy of the dance moves, the more points acquired by the players. Players are given ranks based on the number of correct moves, making it more of a competition between players. In Just Dance 2, Sweat Mode was introduced, one that alerts the player on how difficult the dance will be and later, in Just Dance 3 and 4, the mode was adjusted to count the number of calories burnt in each song.
Dancing is considered a form of cardio, also known as cardiovascular training, and can be beneficial to one's health. Just Dance being used as a workout tool can lead to improved brain function, according to Time Magazine, and, if you choose to play with friends, an increased social interaction.
A research study conducted by Time Magazine linked increased physical activity to an increase in more casual physical activity as well as mental health benefits. Many experts believe that through maintaining physical activity, increased blood flow can reduce deterioration of brain tissue, making a workout such as Just Dance, perfect. Improved physical fitness allows for the body to function mentally as well as in a physical sense, which is especially important in the mostly online day and age.
In addition to being a healthy form of exercise, it is also a fun way to spend time with friends and family.
"The first thing I do when someone comes over is, 'Hey, we should play Just Dance' and now everyone kind of just suspects that we're gonna play Just Dance when they come over, and I think that that is really fun," sophomore Marie Anne Madrigal said. "I didn't have a big family growing up so it [Just Dance] definitely helped me get closer to a lot of people."
The game can also bring out some friendly competition in some players, as it can be played as a multiplayer dancing match.
"My sister and I get really competitive over the stars, and it adds extra motivation to us, because we are a really competitive family," sophomore Lydia Malashock said. "If you really want a good Just Dance workout try Just Dance 3. Just Dance 3 is the best and I recommend it to everyone."
Whatever type of workout you prefer and whatever your music taste might be, Just Dance is a perfect option for everyone.
Leave a Comment
About the Contributor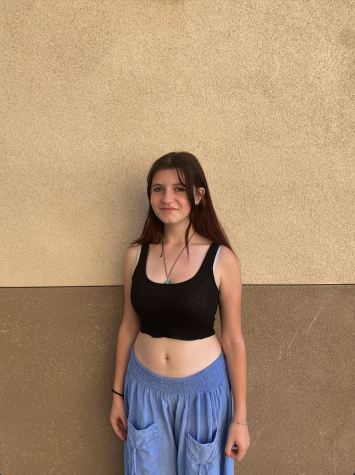 Beatrice Levine, Managing Editor
Beatrice Levine is Creative Editor. This is her second year on the Phoenix and she is a junior at Fremont High School. She enjoys watching movies, playing goalie on Field Hockey, and spending time with her kittens.