TV and Film: The rise of Korean shows
The popularity of Korean movies and series in western media has exponentially grown over the last few years. Shows like "Squid Game" (2021), "Parasite" (2019) and classics like "Boys over Flowers" (2009) are all a part of what is called the Korean Wave Phenomenon, which refers to rising international success of South Korea culture, specifically Korean shows.
Recently, major streaming services like Hulu and Netflix are increasing the number of Korean shows being offered. According to Forbes, Netflix added 4.4 million new subscribers in the third quarter of 2021 which brought its total up to 214 million paid subscribing households.This was around the time "Squid Game," an award winning Korean show, premiered on Netflix.
The rising popularity of K-pop, a genre of music, also further advanced the western audience's interest in Korean shows and dramas. Oftentimes, Korean singers are not limited to just singing but acting too. "True Beauty" became a popular comic turned show which featured Cha Eun-woo, a singer from a popular Korean music boy group, Astro. Similarly, "Snowdrop," a highly anticipated romance-espionage drama features Jisoo, a member of the Korean music girl group Blackpink.
Unlike American shows that are usually unafraid to be mature and explicit, Korean shows are often lighthearted and slow. Of course, not all shows from Korea fall under this trope but it is something consistent within many of their most popular dramas.
Many of the Korean shows and movies that became popular in western media tend to consist of topics that are usually highly debated in American society. This is seen in shows like "Parasite" and "Squid Game", international award winning shows, where they tackle the ill-effects of capitalism.
The rise of Korean shows in western media has pushed the boundaries for Korean actors in terms of projects. Park Seo-joon, known for being a part of "Itaewon Class" and "What's Wrong with Secretary Kim", is in the confirmed cast of the upcoming Marvel movie, "The Marvels," although the character he will be playing has yet to be announced.
The rise in interest of Korean shows in western media showcases Asian-Americans' need for representation. Side characters and token Asian characters aren't cutting it anymore.
Leave a Comment
About the Contributor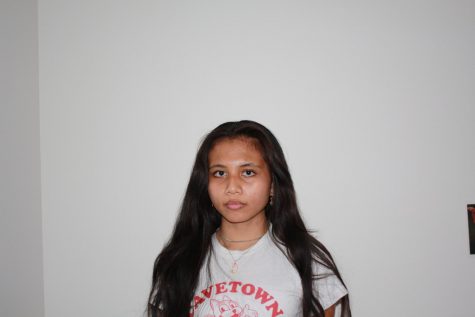 Hannah Azur, Staff Writer
Junior and staff writer, Hannah Azur often spends her time on twitter, watching an otters live stream, or writing sad and angsty fictional stories. When doing her homework she usually listens to One Direction for emotional support, or one of her many down horrendous music playlist to match her mood. On a lighter note, Hannah also enjoys outdoor activities such as running, hiking or playing badminton.