Tanvi Wadhawan: FHS's only female varsity football player
Football, the game so many know and love, is widely considered to be a masculine sport. Some start out with flag football, while others throw the football back and forth with their dad. Many classic movies have followed the highs and lows of the sport, usually with a leading man responsible for the final victory. Even though most think of boys or men playing the sport, the reality is that women have had roles on the field since the 1970's. 
Tanvi Wadhawan, a senior at Fremont High School, is currently a member of the varsity football team. In elementary school, Wadhawan started playing flag football. She enjoyed her experience then and wanted to continue playing the sport into middle school. However, girls were not allowed to play football at her middle school until her 8th grade year and Wadhawan had already committed to playing volleyball. Furthermore, since both sports share the same season in the school year, she was not able to play football until her high school years. Wadhawan started lifting weights halfway through her freshman year in the school weight room after school. As a result of lifting, she had the opportunity to get to know the football team since they are required to have weight lifting as their physical education class. After becoming friends with the team, Wadhawan was asked if she was interested in joining. 
 "I didn't really think about it; I was like okay sure…because why not?" Wadhawan said.
Wadhawan joined the junior varsity football team her sophomore year. She has spent the last two years on the varsity team. She now plays wide receiver on offense and outside linebacker on defense. Wadhawan said her favorite part of the game is defense, which requires looking at strategies and analyzing the game. As an outside linebacker, she has many responsibilities and her position is critical for completing defensive plays. Wadwahan's favorite part about being on the team is how her teammates make all of their conditioning and practices in the high heat more tolerable.
"My teammates make practice a lot of fun because we are out there every day sweating in the heat," Wadhawan said. "Everyone is there with us, going through the same stuff. That makes it more bearable and really fun." 
 Because Wadhawan is currently the only female varsity football player at Fremont, there is a difference between her and the average male player. She gets her own locker room above the boys locker room which gives her a private space to change and leave her belongings. 
Wadhawan hopes to continue playing football in the future and would love to play in college. If she does not play in college, she at least hopes to continue weight lifting. However, if Wadhawan continues to play in college, she would have to join an all-male team because there are currently very few colleges with female football teams. Even though she does not mind being the only female on her team, she thinks it would be amazing to have a girls only football team. Wadhawan hopes to be inspiring to other girls at Fremont and show them how fun football can be.
"I hope they come out and do it, because it's honestly a really good experience," Wadhawan said. "I really love playing. I love the sport and as hard as it is, it's rewarding and fun and I hope other girls see me. You know, I'm not giant or tall or super built, but I'm still there and I am doing what I can."
Wadhawan is very dedicated to the sport and is an example of how hard work and perseverance pays off in the end. The team practices every school day except for game days, which are normally on Fridays. She has proven herself to be a valuable player to the varsity team and continues to work hard and dream big. Her unique role can certainly be an inspiration to other girls at FHS to challenge themselves, pursue their unique interests, and be dedicated to what they are passionate about. Make sure to look out for number 12 the next time you are at a Fremont football game! 
Leave a Comment
About the Contributor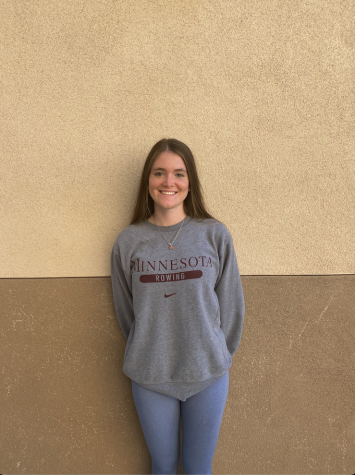 Elsa Pitsch, Staff Writer
Elsa Pitsch is a staff writer for the Phoenix at Fremont High School. This is her second year in journalism and hopes to learn more and continue writing. Some of her favorite activities to do is listen to music, hang out with friends and ski race. She looks forward to this year at the phoenix and working with fellow journalists.