FHS IDC Exchange returns
FHS hosted its first Intra-District Council Exchange in three years. 
The IDC Exchange involves students from four high schools in the FUHSD coming to the host school for part of a day, and getting a chance to experience life at a school different from their own. Visiting students shadow a host, touring the campus and attending the host's fourth and fifth block. FHS's IDC Exchange was held during the Winter Welcome spirit week, on the day of the Winter Rally. 
IDC Exchanges are organized by IDC Representatives from each school, who coordinate logistics and manage the budget for events. 
"As an IDC Rep, you get the chance to talk and discuss with members of the other school's committees," FHS representative Sanika Bidarkar said. "You get to talk about problems, things that are going really well and share that with the board." 
A key aspect of the IDC Exchange is giving students a chance to experience life at other schools. 
"I've made some really great friends from other schools through IDC," Bidarkar said. "I think it's cool that we get to provide a chance to meet up with the other schools." 
Bidarkar applied for the Lynbrook IDC Exchange last November, and recounts finding the other school's dynamic and curriculum interesting.
For FHS's IDC Exchange, shadows attended the Winter Rally during Tutorial after visiting their hosts' fourth and fifth blocks.
"I found the rally and Fremont's cheer really cool," Cupertino High School freshman Amina Boubezari said.
 Boubezari and her host, freshman Amina Mohiuddeen, knew each other outside of IDC, and applied when they realized they shared similar classes.
"I take similar classes to my host, and I wanted to see how my classes were similar or different from hers, and just hang out together," Mohiuddeen said. 
Like Boubezari, many view the IDC Exchange as a chance to hang out with old friends and make new ones at a different school. 
"I wanted to connect with people from outside the school," junior Wren Iswandhi said. "I wanted to see if they had similar experiences to us, and it's nice to just show someone around."
Her shadow, Chofi Ruano from Cupertino High School, enjoyed the experience. 
"I applied because, during my high school years, I realized I hadn't really visited the other schools,"  Ruano said. "I'd heard about them but hadn't really been to any. It's a pretty cool place, the structure, buildings are super nice, the people are great." 
Iswandhi and Chaunan hadn't known each other before the exchange, but soon realized they were both members of the theater community at their respective schools.
Interestingly, shadows found the overall layout of FHS's classes fascinating.  
"The architecture and layout looks different," said Boubezari. "I like it more than Cupertino's." Sophomore Khadija Raza agreed, adding that very few Lynbrook buildings have indoor hallways.
Overall, both shadows and hosts agreed that the IDC Exchange was an exciting experience, and look forward to participating again in the future. 
Leave a Comment
About the Contributor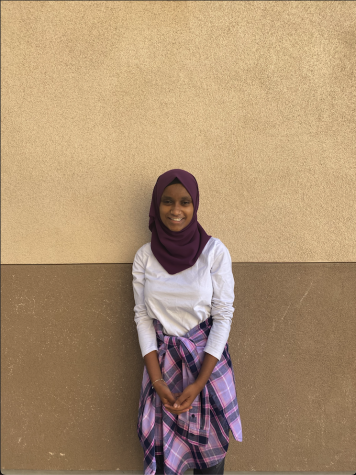 Zaynab Mohiuddeen, Online Editor
Zaynab Mohiuddeen is a sophomore and an online editor for The Phoenix. She loves to write, and when not performing onstage with FHS's theatre department [come check out the new theater!] or practicing coding, she can be found swimming laps or curled up on the couch with the latest thriller. She looks forward to a great year with The Phoenix!