Behind the scenes: FUHSD Marching Band Exposition
On Saturday, Oct. 1, parents and alumni gathered at the Homestead Stadium for the Marching Band Exposition. Featuring performances from St. Francis, Mountain View, Cupertino, Fremont, Homestead, Lynbrook and Monta Vista High School, the exposition was the first performance of the season. 
While family and friends began filing onto the Homestead bleachers at 6:00 p.m., the day started much earlier for the FHS Marching Band. After practicing at Fremont from 9:00 a.m. to 11:00 a.m., marching band students polished their shoes and loaded props and instruments into trailers, preparing to move to Homestead High School for the exposition.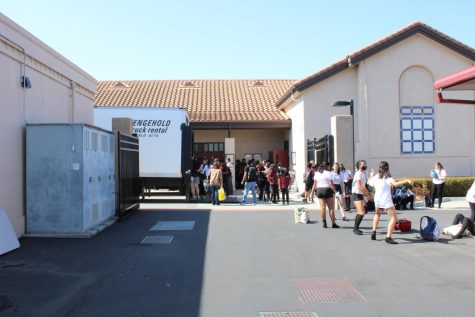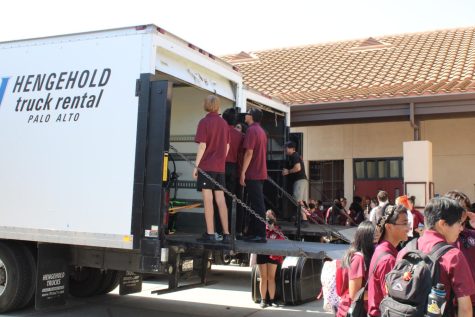 Upon arrival at Homestead, students helped unload props from the trailers and moved into their designated warm-up areas. Mountain View, Homestead, Monta Vista, St. Francis and Cupertino were already practicing on the side fields.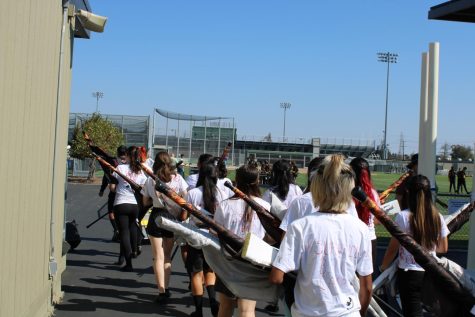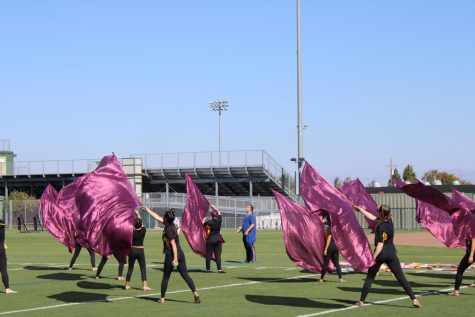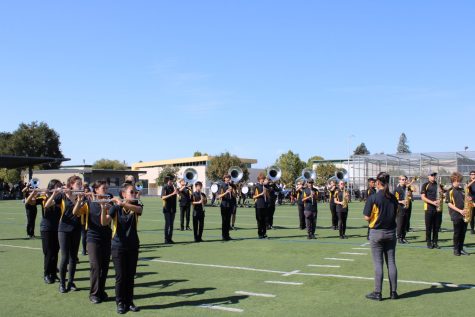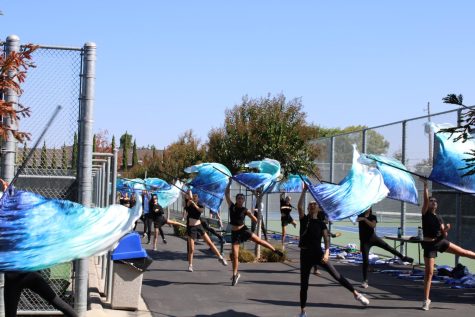 At 2:45 p.m., all marching bands began making their way to the Homestead Stadium to perform for the other schools, before their formal performance at 7:00 p.m. Sitting in the front bleachers, each marching band cheered loudly for their peers, showing lots of camaraderie and support. Typically, marching bands are unable to see the other schools perform, so the early afternoon performance was a rare opportunity for each marching band to see the others' performances.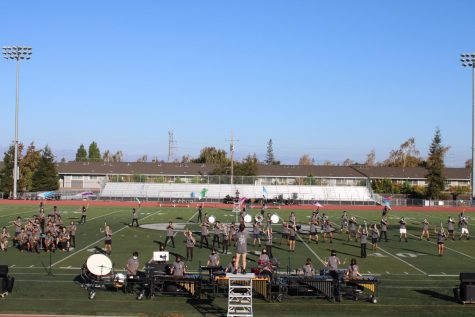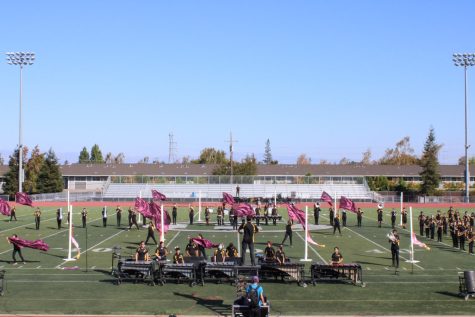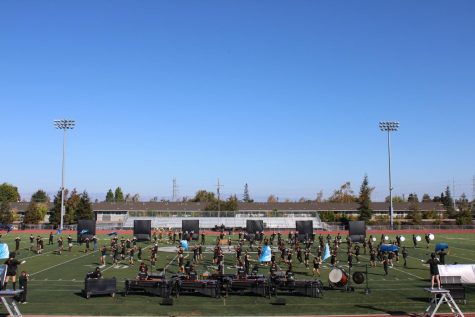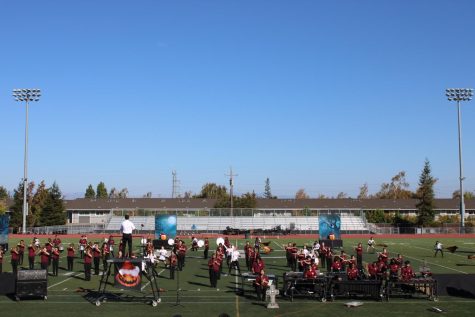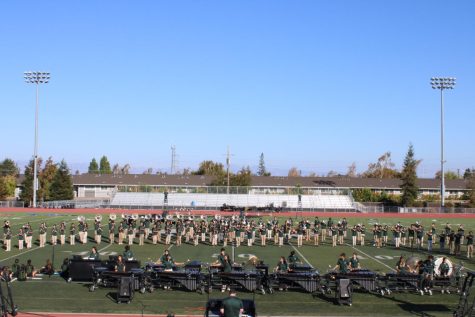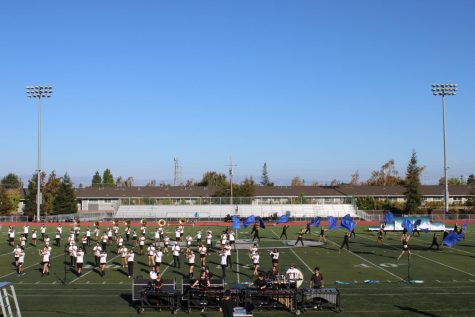 Fremont's Marching Band performed their show "Nightmare", a play on classic holiday tropes based on the movie "The Nightmare before Christmas," featuring songs such as "This is Halloween" and "Sally's Song." 
"Everyone is putting their work in and doing their part," FHS senior and clarinet section leader, Noah Cruz Hernandez said. "From the first time that we performed to the last time we performed, we've done a lot of work to get where we are and I'm so proud of us."
Fremont's performance consisted of a duet and solo from Maci Maxwell on the flute, and solo performances from Rachael Zhao with the sabre and Ainsley DeSouza with the flag. Led by drum majors Daniel Sabo and DeSouza, the FHS Marching Band was able to perform their first two movements and half of their third movement. 
"Knowing that we have most of our show done and just get to perfect it, I think that can make us feel more proud of what we accomplished," Hernandez said.
At 5:00 p.m., the FHS Marching Band ate dinner (taco bowls and Safeway cookies) and socialized, before changing into their uniforms and prepping for their formal performance.
At 7:00 p.m., family and friends cheered from the bleachers as the first marching band performance from St. Francis began, followed by Mountain View, Cupertino, Fremont, Homestead, Lynbrook and Monta Vista. 
After their performance, Fremont's Marching Band reloaded the trailers with their equipment and debriefed before heading back to Fremont's campus. At 9:45 p.m., the FHS Marching Band returned to Fremont; students began to unload props and instruments, remove their makeup and change out of their uniforms.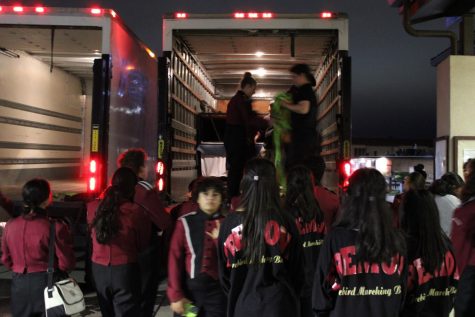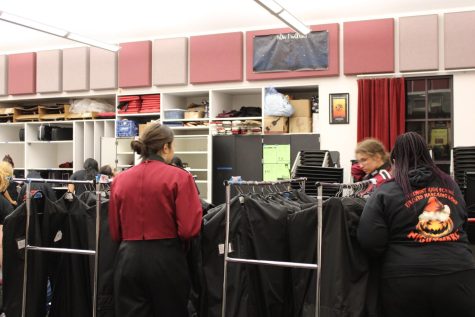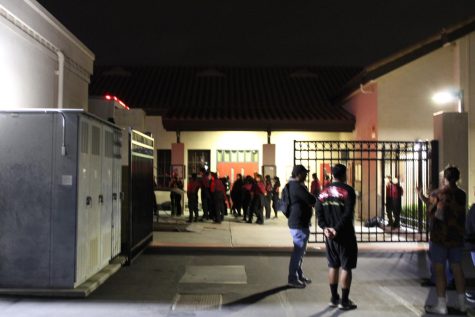 "Since it's the first show, there's always room for improvement," Colorguard member and FHS sophomore, Paris Huynh said, reflecting on the day. "But I'm pretty proud of everyone, including myself, and [am] just waiting for more." 
Finally, at 10:30 p.m., Fremont's Marching Band was dismissed.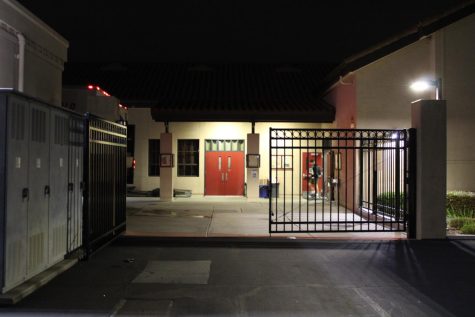 "It makes me so excited because we're already so great," Huynh said. "It's so early and I'm like, wow, we can only get greater."
Leave a Comment
About the Contributor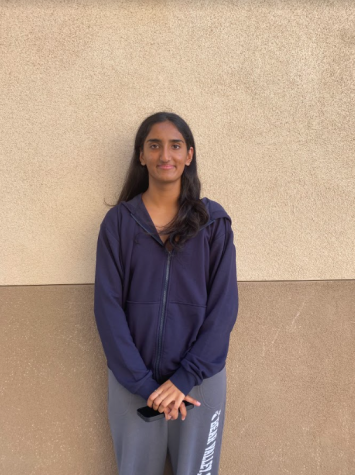 Nivi Khatana, Alum
Nivi Khatana is a senior and Editor-in-Chief for The Phoenix. She loves to crochet, paint and, of course, design. She likes to explore film, feminism and existentialism in her writing. Outside of journalism, she makes playlists, watches sunsets and, in general, vibes out.