Boys Soccer: An amazing start to the season
The Varsity Fremont Boy's soccer team is about halfway through their league season, having a 4-1-1 record for league and a 8-3-2 record overall. They are currently second in their league behind Los Gatos High School.
 "We have had a pretty good season so far, but we can definitively play better against the teams we have gone against," Andres Moreno, a junior and a Center Attacking Midfielder for the Boys Varsity soccer team said. "But, sometimes the results just don't come out." 
With a 69% win rate overall and 75% win rate in the Santa Clara Valley El Camino Soccer League, they are tough competitors for other schools in the league. The Fremont Varsity team is playing in a league that consists of Los Gatos, Milpitas, Cupertino, Saratoga, Monta Vista, Lynbrook and MacDonald. Their toughest competitors are Los Gatos and Milpitas, as they are the two other teams on the podium for league. Los Gatos has a 65% win rate overall with a record of 7-3-3, and a 4-1-2 record in league, putting them above Fremont and in first place. They were only beaten by one team, Saratoga, who is currently ranked fifth. On the other side of the podium, Milpitas has a 64% win rate overall with a record of 8-4-2, and a 3-3-2 record in league. They just recently beat Lynbrook 4-2 on January 26. They have been beaten by three teams in league, Monta Vista, ranked sixth, Los Gatos, ranked first and Lynbrook, ranked seventh. 
       Since Varsity is doing very well overall and in the league winning most of their games, with only a few ties and losses, they are quite a strong team for the level they are playing at.
"I like the level we are playing at currently, because it gives us room to shine a bit," Moreno said. "If we go against more experienced teams however, it gives us more exposure and it is more competitive." 
Varsity's first encounter against Los Gatos resulted in a tough, well fought 3-2 loss. 
"Scoring two goals against Los Gatos was my favorite moment," Moreno said. "Although we lost  I felt very accomplished, and the two goals were my favorite I have scored so far. It was our most intense game and it kept going back and forth." 
The Junior Varsity team has also been performing quite well both in league and, overall, winning most of their games. 
"Our season has been going pretty good so far, we've been winning most of our games," Wesley Hubel, a sophomore and Left Back, said.
Junior Varsity, like Varsity, are playing very well in their league, with few ties and
losses. "I really enjoy the level we are playing at, as I believe it is not very challenging, and I enjoy beating all the other teams," Hubel said.
Junior Varsity beat Monta Vista with a final score of 3-1. "My favorite moment this season was when we beat Monta Vista ," Hubel said. "I think we will be able to place quite high in the league, possibly even first." 
Joining the soccer team whether it's JV or Varsity, is a great way to make more connections at school.  "I definitely have made more connections and friends being on the team, not just hanging out and talking at practice, but at school too," Hubel said.
Both JV and Varsity have had pretty successful seasons so far, placing high in league and winning most of their games. The Varsity team played Los Gatos on January 27 and tied 1-1. However, they lost their first game against Los Gatos 3-2, so they are still in second place. With only about 2 weeks left in the season, the last games count the most, as JV and Varsity are trying to move up in the league and take that 1st place rank.
Leave a Comment
About the Contributor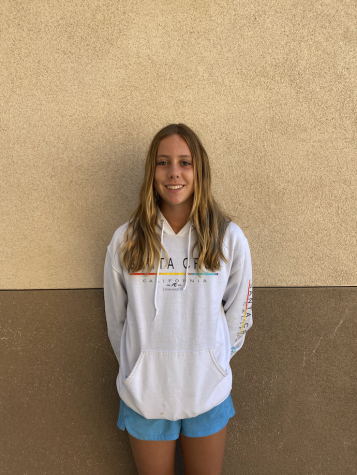 Stella Civelli, Staff Writer
Stella Civelli is a Freshman and Staff Writer for the Pheonix. She loves playing and watching soccer (especially the French National team and Real Madrid). In her free time, she enjoys annoying Abby.