The impact of celebrities on politics
America is a land of many things, some things to be proud of, other things not so much, hyper-partisanship belonging to the latter category. As such, public figures and celebrities generally follow the rule that in order to maintain their social standing and avoid controversy, they should remain silent on their political beliefs. 
There are notable exceptions to this rule however, with celebrities like Leonardo DiCaprio, Taylor Swift, and even most recently Lil Nas X, speaking up. 
Actor Leonardo DiCaprio has had a long-standing history of standing up for the environment. In 1988, he started his own organization, the Leonardo DiCaprio Foundation (LDF) (subtle indeed). His foundation donates millions of dollars to a variety of other organizations dedicated towards conservation efforts. The foundation has donated to a Nepalese conservation project for wild tigers, a black rhino project in Tanzania, gorillas in Central Africa and snow leopards in Central Asia. There have also been efforts to end the ivory trade in Thailand, with DiCaprio creating an award-winning film to promote awareness for marine life and more. 
View this post on Instagram
People have been so grateful for his conversation efforts that he got a Malaysian beetle and a Dominican spider named after him! 
Leonardo DiCaprio's conservation efforts have been so successful largely because he avoids hot-button topics. Most people never bat an eye when it comes to messages of saving the environment. Why? Since efforts to save scared, hungry and overall cute animals is rarely something that produces any amount of animosity – much less outrage – among entire portions of electorates. 
By avoiding hot-button topics, DiCaprio provides his foundation the best chance of being as successful as possible in their conservation efforts. 
Being able to hold a spotlight over yourself and draw effectively zero criticism while making meaningful change is a rare feat reserved for only the most universally agreed upon topics.
Unfortunately for many other celebrities, that is not the experience for them. 
Taylor Swift, a popular singer and songwriter, entered the political fray and broke her silence on politics starting in the 2018 midterm elections. In a long Instagram post, Swift announced her support for Senate candidate Phil Bredesen and US House candidate Jim Cooper. Both of these men were running in Tennessee, Swift's home state. Swift, for the most part, largely focuses on races in her home state. 
View this post on Instagram
The backlash from Republicans and her own right-wing supporters was intense. 
"Oh yay," said a user on 4chan. "Another literally r*t*rd*d celebrity the left can fawn over while we make fun of her and them for being r*t*rd*d."
Even the President at the time, Donald Trump, joined in by saying that he liked Swift's music "about 25% less."
Despite the outrage from right-wingers , there is clear evidence that Swift's message did in fact make meaningful change. Following her Instagram post, there were 65,000 registrations in the following 24 hours according to Kamari Guthrie, the director of communications for Vote.org. 
Swift vowed at the time that she would continue to speak out against "disgusting rhetoric". 
This is all quite the remarkable transformation for Swift, who just in 2016, told Times magazine that it was not her place to talk about politics. 
"I don't talk about politics because it might influence other people," said Swift. "And I don't think that I know enough yet in life to be telling people who to vote for."
So while the online backlash to celebrities' newly announced political opinions is immediate, it does not hurt them in the long-run, as more and more are slowly starting to realize. One can be a cultural icon and voice their opinion on politics simultaneously. Those two seemingly conflicting sides, icon and activist, can co-exist even in today's divisive political climate. 
But no artist to date has intertwined those two supposedly contradictory parts of their personality more intimately than Lil Nas X has. 
Lil Nas X became 2019's top breakout artist with his hit song Old Town Road featuring Billy Ray Cyrus. This song slingshotted him to fame and  cultural relevance,  though he  was beaten  by Billie Ellish's Bad Guy for record of the year at the Grammys. 
After releasing a Christmas themed single called Holiday in 2020 — and watching its subsequent flop — which saw him dancing at the North Pole, Lil Nas X decided that he had to turn up the heat in 2021.  
What happened next was purely a feat only capable of Lil Nas X himself. In March 2021 he decided to go all out by releasing his new hit song, Montero (Call Me By Your Name). 
The song did exactly what it was supposed to do, and started a major controversy. In case you have never seen the music video, here is Aja Romano's top-tier interpretation of the video from vox.com. 
"… he cavorts erotically with various iterations of Satan, is stoned by a crowd throwing buttplugs, transforms a spear that's been homoerotically aimed at him (à la St. Sebastian) into a stripper pole, and then slides all the way down the pole into hell before giving Satan a lap dance as an excuse to seduce him, murder him, and steal the crown of hell for himself in a win for bottoms everywhere."
Lil Nas even released 666 pairs of blood-infused Nike shoes for sale — they go for 1,018 dollars each. 
It is important to note that Lil Nas X did not create this for shock value nor to gain relevance again, but to legitimately spread a message. Lil Nas X has already been out as gay for a while and this video and song combined was meant to send a statement. 
Many Christians believe that gay people like Lil Nas X should go to hell. That is exactly what he did. Lil Nas X literally put himself in hell in his own music video and showed himself thriving in the process. It stands out as a huge moment for the LGBTQ+ community and acts as a symbol of pride for all those included.  
All of this intense satanic scenery in his music video undoubtedly caused huge swaths of people on the political right to start a culture war over his song. Prominent Republicans such as Governor Kristi Noem of South Dakota begged people to protect kids "God-given eternal soul[s]" on Twitter in response. Additional fervent responses also came from Tennessee pastor Greg Locke, rapper Joyner Lucas and Black right-wing activist Candace Owens.
In the end, all of this only worked out in Lil Nas X's favor. The whole point of this exorbitant satanic imagery was to provoke a dramatic backlash from conservative Christians to highlight their unnecessarily cruel response to anything regarding homo-erotic imagery.
The entire situation ended up being a modern commentary on the church today and queer identity as well as how the two clash and fight violently with one another on a daily basis. "Are you LGBTQ+? Go to hell, oh you are in hell? Not good enough." The cycle only repeats itself. 
Nevertheless, Lil Nas X has so far been to date the only artist who has single handedly and successfully intertwined being an icon and an activist. He went so far as to even develop a shocking music video where he would thrive from the continued backlash of the embedded political messaging. Going from Leonardo DiCaprio to Taylor Swift to Lil Nas X, the future for celebrities' place in politics is looking brighter and brighter. 
Leave a Comment
About the Contributor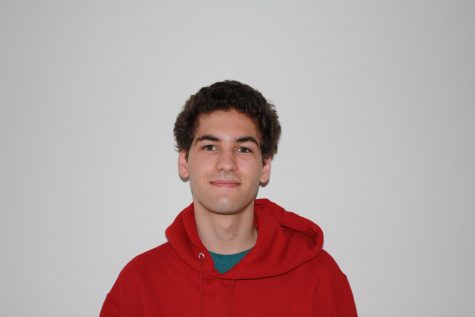 Quinten Seghers, Staff Writer
Quinten Seghers is a senior and staff writer for The Phoenix. Quinten has been in journalism for all four years and hopes to do his best in leading journalism for the papers ten year anniversary. He runs in cross-country, likes to listen to various pop songs and obsess over his stuffed animals. Besides making Instagram posts for The Phoenix, Quinten hopes to eventually become a great journalist one day.