New Häagen Dazs
Churros, hot dogs, donuts, tacos…. These addictive street foods are a tasty treat for a hungry human looking for a quick and cheap snack or meal, while also giving them a better understanding of the local culture. Many find street foods delicious, including the wide variety of sweet treats around the world — from churros to waffles — and it is this genre of street food that has inspired the new Häagen-Dazs's City Sweets collection. The collection features five new ice cream flavors inspired by iconic on-the-go city street food desserts from across the country. 
Häagen-Dazs is an iconic American ice cream brand, first established by Reuben and Rose Mattus in The Bronx, New York, in 1960.  The company opened its first store in Brooklyn, New York, on Nov. 15, 1976. Häagen-Dazs is now one of the biggest ice cream brands worldwide, also producing ice cream bars, ice cream cakes, sorbet, frozen yogurt and gelato.
In the City Sweets collection, Häagen-Dazs will release five flavors: Dulce de Leche Churro, Summer Berry Cake Pop, Coffee Chocolate Brownie, Chocolate Peanut Butter Pretzel and Black & White Cookie. Dulce de Leche Churro, Chocolate Peanut Butter Pretzel and the limited edition Summer Berry Waffle will also be available as snack bars.
Each pint of ice cream features a classic Häagen-Dazs base flavor with a playful twist. Dulce de Leche Churro is the classic Dulce de Leche ice cream and dulce de leche sauce along with churro pieces; Summer Berry Cake Pop is Strawberry ice cream swirled with sweet cream ice cream and mixed with fluffy cake pieces and a tangy raspberry sauce; Coffee Chocolate Brownie is with the Häagen-Dazs classic coffee ice cream swirled with gooey brownies; espresso chocolate sauce and cocoa nibs; Chocolate Peanut Butter Pretzel is Chocolate ice cream packed with thick; creamy peanut butter and complemented by crunchy; mildly salty pretzel pieces and finally; Black & White Cookie is Vanilla Bean ice cream; mixed with soft, cakey cookies and ripples of chocolate frosting sauce.
In a press release via People, Häagen-Dazs wrote: "Whether you are scooping into crunchy, salty pretzel pieces, crispy churros with caramel, fluffy cake swirled with raspberry sauce or cookie chunks with delicate ripples of chocolate frosting, the new collection can be enjoyed by all as a way for people to experience a spin on street foods in different cities without leaving their homes," 
While these flavors are currently in select retailers, the full product line will be in stores nationwide by April 2022, so keep your eyes peeled!
Leave a Comment
About the Contributor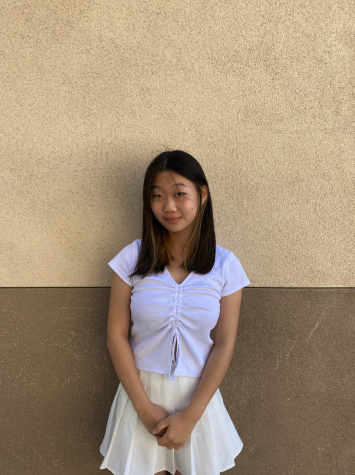 Sophie Wang, Editor-in-Chief
Sophie Wang is a junior and Editor-in-Chief for The Phoenix. Sophie may be a night owl, but she prefers to keep her daytime adventures indoors, away from the harsh glare of the sun. Perhaps she should consider adjusting her sleep schedule, but for now, she'll continue to let her creativity thrive under the cover of darkness.