FHS Alumni gains Stardom on TikTok
TikTok, what many consider to be the next generation of music and dance-based apps, has only further surged in popularity going into 2021. Barely a decade ago, Vine and YouTube used to be the go-to apps, but now TikTok has filled in the gap. 
People from all over the world post their content with the intent of gaining a large following. Few make it as the road to popularity is one that must be accomplished with hard work and dedication. In this world, it means daily posting. 
One such Fremont student took to the challenge. "I try to post once a day," said FHS alumni, Kennie Tatis. "But I don't really care too much about it."
Kennie started his Tik Tok account in 2019 and his first post was in August of that year, allowing him to gradually amass a following. Slowly but surely, he climbed his way up to over 950 thousand followers. But earlier this month, he made a Tik Tok — @kaptin.kenuckles — that resulted in quite the attention.  
Several of Kennie's Tik Toks center around political topics and themes.
"When I post a political video it's normally in response to someone else's video," said Tatis. "I sometimes go looking for people who need a little bit of education."
Kennie gained inspiration for another one of his "education" based videos following the riots that took place at the Capitol, earlier this month. Kennie decided to take to his account to offer his own commentary. He ended up going with a more satiric approach, taking the time to fully inform Congress lawmakers on how to properly handle oneself during an active shooter situation. He then went on to explain the three-step guide of run, hide, and defend — a situation that most students in America have to go through each year.
That single Tik Tok alone garnered 900k likes, 43k shares and 10k comments, by far his most-viewed political Tik Tok. He even got his Tik Tok featured and quoted in an article from Yahoo News and Seventeen Magazine!
"I got both very positive and negative critiques on it [Capital riot Tik Tok]," said Tatis. "I had a very positive tone, and it was very PSA and happy even though it was a very heavy topic. So it was satire, and it was trying to call out the juxtaposition between my happy tone and the really dark message about all the school shootings." 
Kennie is glad of the fact that his Capital post was the one to gain such a far-reaching audience. 
"You kinda have an idea when a video is gonna do well … while I was making it I knew that this one was gonna do well," said Tatis. "I'm very happy that it did [go viral] because that's one of the videos I'm most proud of. "
A lot of Kennie's political Tik Toks host a wide range of topics. He usually responds to current events or calls out other Tik Tok posts; whether it concerns LGBTQ+ issues, identity, body image or otherwise. Whatever it may be, Kennie is not one to back down.  
"I just wear whatever I want, I do whatever I want and I try to be very confident in my choices." said Tatis. 
However, he does share videos with some more lighthearted themes, such as one featuring his family members, a room tour and even the latest photoshoot he took.
Many often ask where Kennie got the inspiration to name his account Kaptin Kenuckles. It originated from a character in an old Cartoon Network TV show called The Marvelous Misadventures of FlapJack, who just so happened to be named Captain K'nuckles. After some deliberation over how to merge his name with that of Captain K'nuckles, he finally landed on Kaptin Kenuckles.
Kennie officially joined the Fremont family roughly three months into his senior year and used to be a student at Leland High School in San Jose Unified School District.
Outside of Tik Tok, Kennie enjoys painting, advocating for marginalized communities and fashion. Kennie's bedroom walls are adorned with a plethora of colors, differentiating between organic and geometric shapes, available for all to see in the back of his posts. Additionally, Kennie loves partaking in outfit-making as well as the subsequent photo shoots that can be held.
But, before you leave, here is a free little nugget of advice from Kennie himself. 
"Base your opinions on people on their ideology not their identity," said Tatis. "Base it off how they act, not who they are."
Leave a Comment
About the Contributor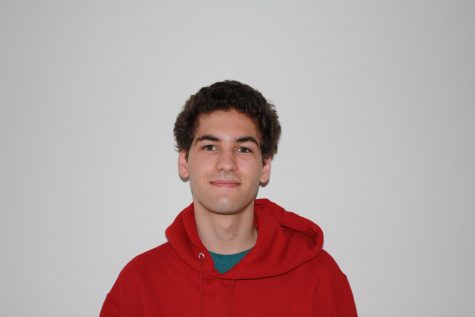 Quinten Seghers, Staff Writer
Quinten Seghers is a senior and staff writer for The Phoenix. Quinten has been in journalism for all four years and hopes to do his best in leading journalism for the papers ten year anniversary. He runs in cross-country, likes to listen to various pop songs and obsess over his stuffed animals. Besides making Instagram posts for The Phoenix, Quinten hopes to eventually become a great journalist one day.