FHS Soccer previews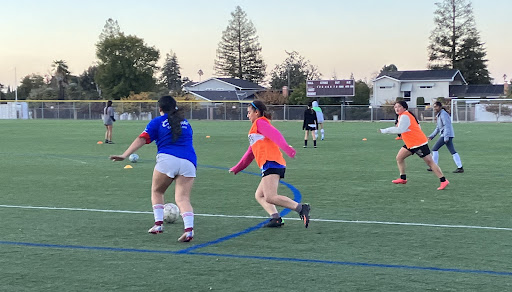 Minutes before the game starts, the FHS Girls Soccer team follows their pre-game ritual of huddling together and cheering before giving the game their all. Girls soccer, a winter sport, started practices in mid-November after two weeks of preseason practice and tryouts. With their first game on November 21, the girls quickly got back into the routine – practices occur three times a week (including Saturdays), with games the other three days. 
While a fairly popular sport, the premise of the game is simple – two teams of eleven players each (and a couple extras) play two 45-minute halves, attempting to score the most points by kicking a ball into the opposing team's goal. Either due to PE credits or simply enjoying the sport, over forty girls tried out, with the final team consisting of around twenty amazing athletes. Overall, the team had a great season last year, winning many games, with Varsity even going to the Central Coast Section Championships. They hope to qualify this year as well.  
Although practices and games can be grueling, the athletes agreed that the sport is worth it. 
"My favorite part of soccer is making new friends through the sport," sophomore Bar Levy said. 
Since soccer is a team sport, creating a good connection between teammates is crucial. 
"I hope to create a welcoming environment for the freshmen," Levy said when asked about her experiences with the team dynamic. 
With activities like Senior Night and team outings, long lasting friendships and unique memories are made every year. 
Typically, games are close to an hour and a half long, and the team alternates between away and home games. The team is looking forward to the coming season, and Varsity's 1-1 tie against Evergreen High School at their first home game definitely helped improve morale. 
"We were pretty evenly matched, and yeah it was a fun game," an anonymous student said.
Unfortunately, due to the flu and the common cold making rounds, many members were unable to play. This, coupled with the fact that some athletes are playing for soccer clubs of San Jose or Santa Clara, meant there were not many subs for the game, so athletes had to play for both halves with very few breaks in between.
Overall, although they have faced some challenges, the Girl's Soccer team is ready for a new season – go Firebirds!
Leave a Comment