Rom-coms to watch this Valentine's Day
During the month of February, some might be looking forward to Valentine's Day while others plan to avoid the holiday at all cost. However, even for those who are alone on the day of love, there are still some enjoyable parts of the season. The romantic comedy genre is watched year round but especially around Valentine's Day. Here are a few rom-coms that are both funny, have a good plot and are memorable enough to watch this February 14. 
Starting off, "She's the Man" is an all-around great movie and one of the funniest on this list. Adapted from Shakespeare's Twelfth Night, "She's the Man" follows Viola Johnson (Amanda Bynes) and her love interest, Duke Orsino (Channing Tatum). This romance is a bit more complicated than most, as Viola pretends to be her brother in an attempt to play soccer as a part of the school team and to help her brother pursue his music career. Bynes plays a hilarious version of her brother and desperately tries to fit in at her brother's all-boys boarding school. Viola ends up becoming roommates with Duke who helps her with soccer while she helps him feel comfortable talking to girls. As the story continues, chaos ensues, but, eventually, has a happy ending.
"Love and Basketball" is a 2000s classic about two neighbors Monica Wright (Sannaa Lathan) and Quince McCall (Omar Epps) who grew up and played basketball together. The two end up falling in love, breaking up, having successes and failures in their basketball career and growing into their adult selves. This movie is a beautiful story that allows the audience to watch the characters grow up and change both with each other and without. This movie also has a happy ending after watching what seems like the characters' whole lives play out. This movie is a classic for a reason and is a great watch for this Valentine's Day.
Another classic movie that many have already watched but for good reason is "10 Things I Hate About You". Follows the very independent Kat Stratford (Julia Stiles) and her sister Bianca living with their strict dad who has made a rule that Bianca can date once Kat starts to date. Bianca and her crush, thinking that Kat might never date and come up with a plan to set her up on a date with someone at their school. They find Patrick Verona (Heath Ledger), a wild new kid who is willing to take Kat out in exchange for money. The two eventually become close but problems arise when Kat finds out about the money Patrick made. While the movie is popular, it has a great story and cast that make this movie a rewatchable one. 
As an old movie that has stood the test of time and has some of the most quoted movie lines, "The Princess Bride" is a cult classic film that has elements of adventure, romance and best—of—all comedy. In a series of unfortunate events, Westly (Cary Elwes) has to leave his love Buttercup (Robin Wright) to search for success. Believing Westly to be dead, Buttercup is forced into an engagement with the prince of their kingdom. Westly, who is not dead,  searches for her in hopes of finding out that she is still in love with him. Between the prince having bad intentions with Buttercup and her not loving him, there are many chaotic attempts to help Buttercup escape her engagement. Because this movie came out in 1987, this is a perfect movie to watch with your parents or as a family. 
Office romances are always fun but "Set It Up" makes it a bit more complicated. The Netflix original movie follows two overworked personal assistants to very successful business people working in the same office building in New York. Harper (Zoey Deutch)and Charlie (Glen Powell) learn they are always the last people in the office and they come up with a plan to set up their bosses in an attempt to get more free time in their life. The movie is surprisingly underrated as it has a fun playful charm with great casting and plot. 
Finally, "Crazy, Stupid, Love" is another one of the funniest movies on this list with a cast full of comedians and hilarious intertwined stories with some moral lessons underneath it all. The main character Cal Weaver (Steve Carell) starts off having what seems like a perfect life, but it all comes crashing down when his wife asks for a divorce. This marks the beginning of Cal's friendship with Jacob Palmer (Ryan Gosling) who is a ladies' man at the bar Cal goes to. Jacob ends up helping Cal talk to and pick up girls. At the movie's climax, there is a funny confrontation that changes the whole movies. 
While there are many more rom-coms, these are just a few that are worth a watch or rewatch during this month. "Love and Basketball," "10 Things I Hate About You" and "Set It Up" are just all-around good movies that have a very balanced comedy and romance balance while "She's The Man," "The Princess Bride" and "Crazy, Stupid, Love" lean harder into comedy. These would be great picks for the ultimate Valentien's Day comfort movies. 
Leave a Comment
About the Contributor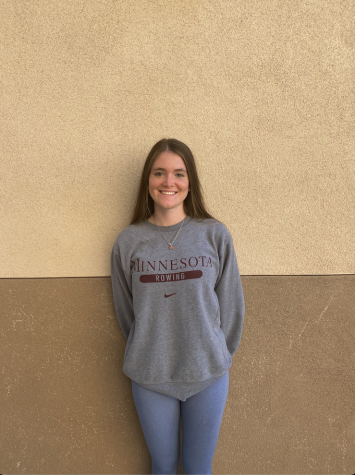 Elsa Pitsch, Staff Writer
Elsa Pitsch is a staff writer for the Phoenix at Fremont High School. This is her second year in journalism and hopes to learn more and continue writing. Some of her favorite activities to do is listen to music, hang out with friends and ski race. She looks forward to this year at the phoenix and working with fellow journalists.