Student barber on FHS campus
High school is when many students begin considering their future careers, whether that is researching trades or applying to colleges. FHS junior Jacob Ponce however has already figured out his profession and is moving towards it. Ponce first discovered his interest in barbering when he tried to cut his own hair 
"I got tired of paying 40 dollars for a haircut," Ponce said. "I started trying to learn how to cut it myself." 
This was the start of Ponce's new career. Word of Ponce's new business adventure got around when he started cutting hair in the boy's restroom at lunch. 
"I just started cutting my friend's hair at lunch," Ponce said. "And from there I started cutting hair in [the] classroom, anywhere I could get some practice" 
Ponce now has regular clients at Fremont consisting of his classmate, FHS Junior Chris Aregullo. Aregullo's regular barber had canceled his appointment. Still needing a haircut, he found Ponce.
 "He was kind of like my last option," Aregullo said. "And my original barber was charging me 40 bucks, so I would rather have a messed up haircut for free than a messed up haircut for 40 bucks."
 Ponce has since then been Arguello's reliable barber. Ponce has received support from his classmates, friends and even teachers such as FHS History teacher Ms. Berrito. 
"He's wanted to be a barber for a really long time and he started doing secret haircuts in my room," Ms. Berrito said. "I saw that he was determined so I was like, go ahead. You can cut my hair." 
Ponce cut Ms. Berrito's hair in front of the A-building gate during lunch with a few student observers. Ms. Berrito now has a side buzz cut to complement her everyday ponytails.  However, it seems that Ponce will need to find a new place to cut hair. FHS administration has raised concerns about the potential legal issues Ponce's business may have. 
Ponce has begun to cut hair outside campsus during lunch to avoid problems with FHS administration.
Ponce is making new plans to further his education in barbering. 
"I'm trying to go to barber school after graduating," Ponce said. 
He has recently turned 16, the minimum age to be considered an applicant at a barbering school. 
"I might even start this year because you only have to be 16 to go to barber school," Ponce said. Until then, Ponce has his FHS community to keep practicing on.
Leave a Comment
About the Contributor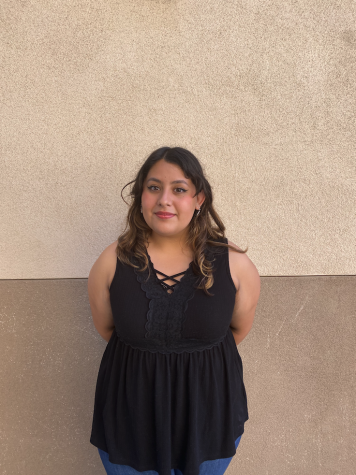 Jael Ramirez, Alum
Jael Ramirez is a current senior and opinion editor for The Phoenix. She loves knitting, late night drives, writing stories and she still enjoys baking questionable treats. She is excited to be part of the Phoenix for another year.