Summer Trends: Hot Girl Summer returns
Summer has finally arrived, bringing with it a fresh wave of excitement and new trends to explore. Every season people update their wardrobes with new clothes and discover new trendy activities.
This season's trends, along with those of the past year, established their roots on social media. Unlike previous years when trends mainly focused on clothing, this year's trends consider every single aspect of an individual's outfit. People's perspective on fashion has evolved significantly, and as a result, fashion trends have shifted as well. The interest in accessories, hairstyles, shoes, and make-up has risen significantly and is a big part of the new summer trends this year.
Clothing-wise, low-rise pants are definitely one of today's top trends. Tops such as tube tops and baby tee shirts are becoming increasingly popular due to their wide variety of colors and shapes. While each person has their own individual style, it seems like tank tops will continue to be favored among teens and will remain trendy for a long time. Floral-patterned clothing, which was a hit last summer, is still in style this year, with many shirts, dresses and even pants having flowery patterns. Skirts have always been popular, especially mini skirts, but it looks like mid-length skirts and long skirts are gaining popularity this summer. Denim has traditionally been associated with pants, but the love for denim skirts has recently grown.
With summer break around the corner, many people are preparing for travel. However, there are many trendy activities to do and places to go right here in the Bay Area. The beach is sure to be one of the top destinations this summer, with its Instagram-worthy scenery that's perfect for tanning, taking pictures, and hanging out. 
"I like going to San Francisco and biking," FHS sophomore Noa Halevy said. 
Hiking is another activity that has grown significantly in popularity since the onset of the COVID-19 pandemic. Taking walks, or the trendy "hot girl walk" as it is called on social media, will undoubtedly be one of the most common things to do this summer. Most places and activities become trendy if they are photogenic or aesthetic. This is one of the reasons why activities like watching the sunset or sunrise and going on a picnic have become very popular.
Summer trends are not only limited to clothing and activities but also extend to the various elements of one's outfit. Accessories have become an important part of a trendy outfit, with many popular choices emerging. Claw clips and sunglasses, which have been popular throughout the year, will be especially in style this summer due to the hot weather and the contribution social media had to its growth.  
"[Claw clips and sunglasses] are very fashionable and easy to use," Halevy said. 
This season, cowboy boots, Converse sneakers and Adidas Sambas are the shoes that will be most commonly seen. Flip-flops were once a staple summer shoe, but when it comes to fashion, they have fallen out of favor and been replaced by Birkenstocks, according to social media. 
This summer promises to be full of creative and fun trends that are sure to be enjoyed by teens. 
Leave a Comment
About the Contributor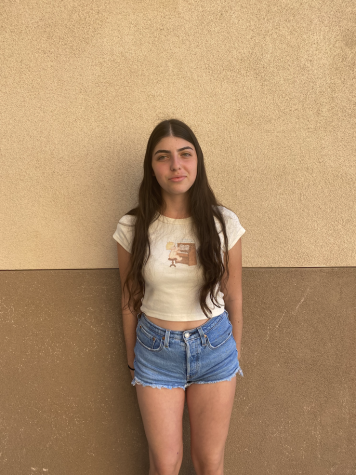 Neta Rabinowitz, Copy Editor
Neta Rabinowitz is a sophomore and copy editor for The Phoenix, she likes to play tennis and is on the girls' tennis team. She likes baking and hanging out with friends. She also speaks Hebrew.