Sunnyvale's holiday plans
Every town celebrates the holidays in its own way. Whether it is with a parade, gift drive or bake-off, there is always something to bring the community together. In Sunnyvale, rain or shine, there is always a tree and a holiday train near Murphy Street. Recently, however, there has been a push to do more. 
In previous years, Sunnyvale has had a tree-lighting ceremony with performances from different groups, including the FHS Choir. Eliza Lyon, a sophomore choir student at FHS, talked about her past experiences attending the celebration as a spectator.
"[The tree lighting is] a fun community celebration," Lyon said."There's a lot of really cool, talented kids there. Especially with Dance Attack, they have their students perform at this tree lighting. A lot of the choirs in the area come and sing. And then it's just a nice community get-together where everybody gets to have fun and celebrate." 
Although the FHS Choir had not performed in the ceremony in recent years due to COVID-19, they returned this year — exciting news for the Sunnyvale community and students. This was also the first time the non-senior FHS Choir students will perform at this event. They performed on Saturday, December 3, in ugly sweaters and sang their hearts out. 
Sunnyvale coordinated with Caltrain to have their tree lighting happen on the same night as the Holiday train, a train that runs on the Caltrain tracks that has festive lights and animatronic characters on it, so families could attend both events with ease. Sunnyvale recommend masks and keeping a safe distance from others at these events, as COVID-19 is still prevalent.
This year Sunnyvale added a new attraction to the tree lighting event.
 "We will actually have a gingerbread village unveiling, so that will also be part of the event." Sunnyvale mayor Larry Klein said. "We had our first gingerbread village that one of our residents got together last year and we held that at the library. And so we'll unveil that after we light the tree this year. And ultimately, we'll see the contributions that our different residents have done to create the different gingerbread houses that are part of that village." 
This gingerbread village was created by Sunnyvale resident Winnie Lam, a member of the Sunnyvale Arts Commission. Her goal was to bring people together during the holiday season through art, or in this case, through gingerbread house building. Last year, there was a small gingerbread village that was displayed in the Sunnyvale library for a month. 
"We talked about bringing that village to downtown Sunnyvale, for the tree lighting ceremony, so it's going to be part of that event," Lam said. "We've also reached out to larger audiences this year, inviting folks to build gingerbread houses. Now of course, it remains to be seen who  turns one in, but I am hopeful and I'm going to keep my fingers crossed."
Leave a Comment
About the Contributor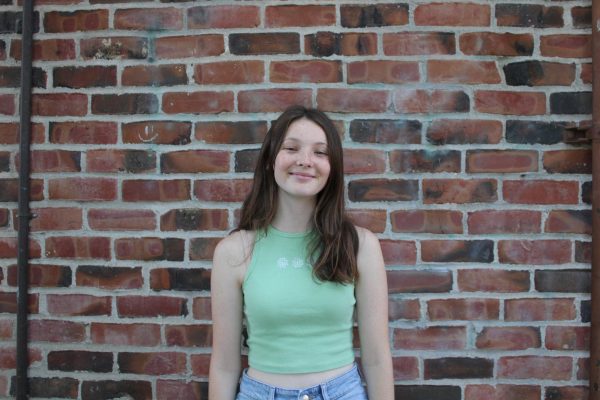 Abby Callahan, Editor-in-Chief
Abigail (Abby) Callahan is a senior and one of the Editor-in-Chiefs for The Phoenix. She loves to listen to music, read and watch sitcoms. In the future, Abby wants to travel across Europe.