"The Car": an analysis
The Arctic Monkeys are back after a four year hiatus with "The Car," a soft rock album. In continuation of their last album, "Tranquility Base Hotel & Casino," "The Car" is a stylistic deviation from the pop-rock anthems of the wildly popular "AM." Both "TBHC" and "The Car" have clear retro influences. The sound is more intimate and the lyrics more sophisticated.  
"The Car" is smokier than "TBHC", evoking the lounge bars of the twenties. The songs are downbeat and nostalgic, and there is a dark, honeyed, slightly dirty atmosphere that permeates the album. The drums are soft. Alex Turner, the lead singer and songwriter, sings at a higher octave. Turner describes mirror balls and disco lights, operas and jet skies, lint on a velveteen suit. Scenes of wealth and glamor glow and fade, but there is an apathy toward these glittering images, a genuine disillusionment. Turner is spooked, uneasy, and a bit bored: glamor has revealed itself as empty — a seedy hotel room.
It's a departure from their older music from the early 2000s, which was more upbeat. The songs described the anticipation before a night out or the thrill of falling in love: it was English pop-rock in its heyday, an earnest boyishness. Now, the band has grown up. Things previously exciting have lost their novelty. Parties, girls, celebrities, it's become the usual. 
The first track of the album, "There'd Better Be A Mirrorball," was released several weeks earlier than the album. It is a breakup song where a girl is leaving a boy who has already accepted it. "Don't get emotional, that ain't like you," Turner says. Both parties are adults now, there is no need to fight. On Turner's part there isn't any anger or deep sadness, only an ache that can be fixed with a drink. 
The last track, "Perfect Sense," describes executives "having fun with the warm up act" and writing a check as a goodbye note. It's a short, stark song — unromantic. Men are buying sex to sleep, love has been overtaken by monetary transactions, no-strings-attached practicality has replaced hopeful romance. It all makes perfect sense.  
"The Car" begins with love, or at least an attempt at it, and ends with a debauched and melancholic image. The car cannot stop driving, and the road is getting darker. 
All in all, it's an album worth a listen.
Leave a Comment
About the Contributor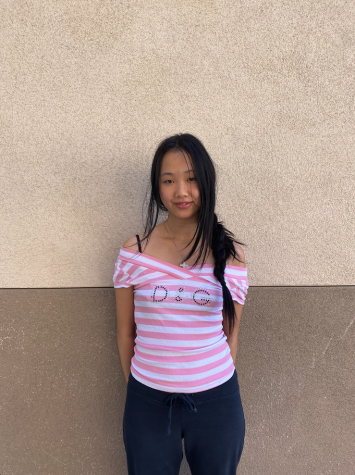 Sara Chow, Alum
Sara's one of the A&E editors. She loves clothes, movies and books, and has a pet guinea pig named Cinnamon.