"The Menu" movie review
"The Menu" is the latest film on the state of the world; a black comedy by Mark Mylod ("Succession," "Game of Thrones") that satirizes the obscenely wealthy. Joining Adam Mckay's "Don't Look Up," or the more recent "Triangle of Sadness" by Ruben Östlund, "The Menu" is about how the rich and powerful are actually pretty awful people. Such a topic is difficult to approach with subtlety, and "The Menu" does not bother trying. The film dissects its subject material with a blunt knife and a heavy hand – and yet – the dish it serves manages to be bright, fun and delicious. 
The film begins on a cruise boat with eleven guests heading toward a remote island. They are going to Hawthorne, a restaurant where it costs $1,250 just to step through the doorway. A young couple, Tyler and Margot, seem to be the only happy people in a group which otherwise consists of people who are burdened with ennui and focused entirely on maintaining an image of elitism; people who are more enthusiastic about the amount of money they are spending than on what they are actually spending it on. Margot is the only member of the group who is not rich, and she is there as a last-minute replacement for Tyler's original guest, his ex-girlfriend. 
It has a solid cast headed by Anya Taylor-Joy (who plays Margot) and Ralph Fiennes, and rounded out by Nicholas Hoult (Tyler, an overzealous foodie), Janet McTeer (a cringingly pretentious food critic), Rob Yang, Arturo Castro and Mark St. Cyr (three finance bros). Fiennes plays a celebrity chef who, having achieved the highest level of success at his craft, realizes that the people he serves have transformed his art and livelihood into a mere status symbol to add to their collections of prizes. He finds himself to be, in essence, a service worker forced to bow down to the whims of his spoiled and less talented diners. Disillusioned with his life and having lost all purpose, he decides to throw a last hurrah where he cooks a final, perfect meal. An extra bloody one.
At times a thrilling horror, at times a snappy satirical comedy, "The Menu" serves up as many surprises as it does laughs. While at times a bit clumsy and obvious with its messaging (wealth and power corrupt people — who knew?), at its heart, the film is still something worth biting into. 
Leave a Comment
About the Contributor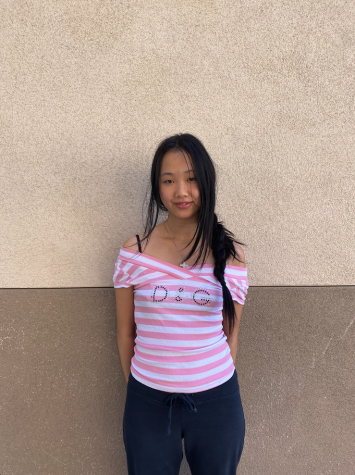 Sara Chow, Alum
Sara's one of the A&E editors. She loves clothes, movies and books, and has a pet guinea pig named Cinnamon.