2020 Sucks!
2020 just does not stop. ‌It is clear that this year has been terrible for everyone. Multiple beloved celebrities have passed away, seemingly leaving the world less and less hopeful. Events all around the world have been postponed and most sports were canceled. The most obvious reason to hate 2020 is the outbreak of coronavirus, the pandemic that put the whole word into lockdown and made so many people ill.
The first confirmed COVID-19 case in California was on Jan. 26th of this year. March 4th of this year is when the state of California was placed in a state of emergency which we are still in to this day. The recent fires certainly aren't helping that. 
Early this year we had the passing of former L.A. Laker and basketball legend Kobe Bryant and his daughter Gigi Bryant. Kobe Bryant was on a flight with his daughter to her basketball tournament when the helicopter crashed, killing everyone onboard in an instant. "Bryant and his daughter were honored at a star-studded public memorial Feb. 24 at Staples Center in downtown Los Angeles, with 20,000 in attendance" ESPN announced. 
Then, on August 28th we lost the Black Panther actor, Chadwick Boseman. He passed away from colon cancer that he was diagnosed with in 2016. The news has left fans and the film world stunned and devastated. 
In an interview, Get Out director Jordan Peele stated that Boseman's death was "a crushing blow." When Chadwick was diagnosed with colon cancer he had appeared in many big movies such as Black Panther, Avenger Infinity War, Avengers Endgame and more. He was only 42 years old when he passed away. When I heard the news for both of these events  all I remember is my heart sinking and being overcome with a feeling of utter disbelief. Both of these men had a huge impact on me. Kobe was one of my favorite basketball players of all time and Chadwick Boseman was one of my favorite actors, for roles such as Black Panther and Jackie Robinson.    
Additionally, there has been an uprising on the street due to the ongoing police brutality against black people and the clash between protestors and armed white vigilantes has been worrying. 
In addition, COVID-19 has postponed all sports and big events. On March 11th 2020 the NBA was suspended for 4 months. Following the NBA postponing their season, all sports that were playing at the time followed suit. The 2020 Tokyo Olympics were officially postponed on March 24th 2020. Since these events happened, as an athlete myself I have been bored out of my mind impatiently awaiting the return of sports. Now that sports are back I finally have something to take my mind of 2020. 
Of course, there's no apocalypse without fires. Entering 2020, Australia continued to have wildfires that started back in June 2019. "More than 46 million acres (72,000 square miles) of land were burned – roughly the same area as the entire country of Syria," reported the Center of Disaster Philosophy. These wildfires did not stop until March 2020. "More than a billion animals – including 800,000 in New South Wales – were estimated by University of Sydney ecologist Chris Dickman to have been killed," Center of Disaster Philosophy said. Australia is not the only place that has been forced to battle wildfires in 2020. California has had wildfires as well. In California the wildfires got so extreme that they turned Bay Area skies orange. It has also made the air quality terrible in certain parts of California, making it dangerous to go outside. 
Anyone can claim 2020 was awful. So far, what has been the worst part of your year? For me, it was the untimely passing of Kobe Bryant and Chadwick Boseman. We must carry their memory with us never forgetting the legacies they left behind. Now all we can do is hope 2021 is better!
Leave a Comment
About the Writer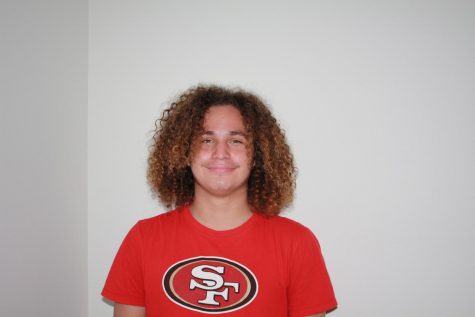 Enrique Alfaro, Staff Writer
I am Enrique Alfaro, I am a staff writer and I am a senior. I play soccer and I support the team Chelsea. I also support the 49ers and Warriors.