ASB plans for upcoming year
With the 2022-2023 school year coming to a close, the newly elected ASB cabinet — juniors Julia Johnsen, Rose Madsen and Ayush Pandey and sophomore Brian Goldshtein — has already begun making plans for the upcoming 2023-2024 school year. With each member having been in the ASB class for at least a year, they have the experience and ideas to make this next year the best one yet. 
"One main thing that we want to focus on is communication with the student body and transparency," Johnsen, who has been part of the ASB class for two years, said.
Madsen added that the new ASB cabinet has been working to make their transition smoother by posting meeting notes for students to view and allowing public access to fundraiser checks and being more transparent to help reach their target donations.  
Goldshtein mentioned his goal to strengthen STEM opportunities at Fremont and make it more accessible to everyone. 
"Something that I'm also very interested in pushing for is more promotion […] and increasing Fremont's representation in different programs," Goldshtein said.  
The new ASB cabinet members also strive to give students more opportunities to join and promote clubs that they are passionate about. In addition, finding new ways to fund clubs is crucial so that students have access to the resources and supplies that they need. While events such as the Firebird Feast, where clubs can fundraise by selling food and drinks to students, have been popular, the members plan to try out a new idea — Club Trivia Night — where clubs can compete to win $200 for their club. 
Fun activities like these can help draw in more students so that they might join clubs they are interested in, and provide funding for existing clubs. 
"I'm looking forward to organizing events that cater to a wider variety of students and making sure that we're incorporating all types of interests and putting on events where we can have a high level of participation," Pandey said. 
Madsen agreed, explaining how it is important for them to bridge the gap between different groups on campus, such as STEM and art programs. She hopes to bring excitement and student representation to arts focused events, such as increasing attendance to the art shows on campus 
Ji Young Kim, one of the FHS art teachers, talked about how she was upset by Fremont's previous lack of funding in the art department, and how that portrayed the school badly. She explained how students were not able to frame their work due to a small budget. 
The ASB cabinet for the 2023-2024 school year look forward to creating positive changes and fun experiences for the FHS community. 
Leave a Comment
About the Contributor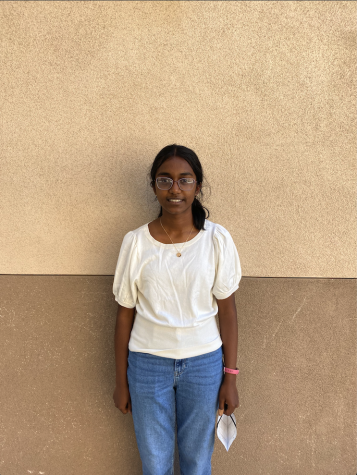 Pranathi Thalasila, A&E Editor
Pranathi is a junior and an A&E Editor for the Phoenix. She enjoys hiking, taking funny photos of her friends, and baking (though her attempts do not usually go very well). She also likes listening to Taylor Swift while writing her articles for Journalism.