Capitol Riots Aftermath
On Jan. 6th, 2021, thousands of people marching from Trump's Save America rally stormed into the Capitol where politicians were verifying the electoral college votes. The people were chanting "stop the votes" and "stop the spirit." This raid resulted in multiple deaths and the injuries of dozens of officers. The rioters forced their way in at around 12 pm ET, by climbing walls and breaking windows. While many policemen were trying to prevent the rioters from entering the Capitol, a few of them stopped and let the raiders in while some even took pictures with them. Many people had Trump flags and Confederate flags. Once the rioters broke in, the law officials were forced into hiding to ensure their safety; thankfully, none of them were hurt. Many people who broke in, vandalized and stole, took selfies and got caught as a result. There were two bombs discovered but their origins have not yet been released. Currently, 13 of the rioters have been charged in federal court, and 40 have been charged in superior court. More will likely face charges, and many of them will face jail time.
The intent of this raid was to slow down the counting of the electoral votes and to help Trump. However, this plan completely backfired, as not only did it change the votes of some representatives, but it ended up possibly speeding up the process. On top of all of that, Trump is now facing impeachment for inciting the riots. It is very likely that he will be impeached, preventing him from being able to run again. It also exempts him from his $200,000 annual pension that former presidents get and a $1 million travel allowance. In the end, the Trump supporters who raided the Capitol achieved nothing but harm.
Trump urged his supporters to "fight like hell" and to  "Turn your cameras, please, and show what is really happening out here, because these people are not going to take it any longer, they're not going to take it any longer." This is what incited the Capitol riots, sending thousands of people marching to the Capitol demanding that the count of votes be stopped. This is egregious for three reasons. First, he used his power to try to work up his supporters so they could try to influence the legislature. This is unreasonable for someone in his position and is a violation of his power. Second, his refusal to accept his loss regarding the presidency is also unprecedented. It is not up to him whether he gets a second term or not, and he should accept that he lost. Third, Trump and his followers believe he is above the law. Trump has been deemed one of the worst presidents of all time for what he caused; if he had not told his supporters to storm the Capitol, the riots would have been prevented.
Leave a Comment
About the Writer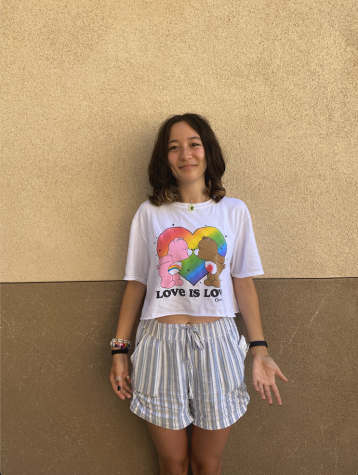 Miyako Grundler, Special Feature Editor
Koko Grundler is a junior and special feature editor for the Phoenix. She loves to play video games, draw and listen to music. She also has a pet lizard named Buddy.