COVID-19 vaccine updates and vaccine trials
Kaiser Permanente, a local Santa Clara Hospital, recently conducted a study on Pfizer's version of the COVID-19 vaccine. According to Clinical Research Nurse Rebecca B. Alexander, this study was conducted in a randomized controlled double-blinded study. This means that both the nurses and participants are blinded or kept from knowing which vaccine was administered. The researchers and participants do not know whether or not they are administering or receiving, respectively, the actual COVID-19 vaccine or the placebo version of the COVID-19 vaccine. The purpose of this is to see if there is an active placebo effect in the participants after receiving the vaccine or not. Half of the participants received the actual COVID-19 vaccine and the other half received the placebo version of the vaccine splitting the participants 50/50.
    Regarding the actual vaccine trials themselves and how the participants have been feeling, Alexander says that participants were excited before the vaccine trials and were happy and enthusiastic to be participating and contributing to the scientific study    
"So, the vaccine administered is administered via muscle in the upper part of the person's arm," Alexander said. "[this] is called intramuscular injection".
    After vaccination, Alexander said that there is little to no effect and that a majority of the participants were feeling great. 
"[Going into the trials,] we have seen that people have been feeling well after vaccination and have done well," Alexander said. "People seem to react well. They don't have too many side effects after vaccination. Usually, people report having a sore arm, but little else."
Based on the information that Pfizer has gathered in their preliminary analysis on the vaccine, the vaccine has shown a 95% effective rate in working against the COVID-19 virus, according to Alexander. 
"So we were very thrilled with that outcome," Alexander said. "[We] have seen that people have been feeling well after vaccination and have done well"
Alexander has been working at Kaiser Permanente for two and a half years as a Clinical Research Nurse. She was a researcher in the COVID-19 vaccine trials as one of the nurses who is collecting data from the participants.
This study regarding the reaction of teens to Pfizer's COVID-19 vaccine will be an ongoing study that will continue over the next two years at Kaiser Permanente. Alexander mentions that as time progresses, she expects to see that the data becomes more accurate and credible to help us find an end to the current pandemic. 
Other organizations that were responsible for bioengineering the vaccine, such as Moderna, have stated that they have been testing out their vaccine trials as well with the help of teens ages 12 and 17 years of age. Amongst their data analysis, they have concluded that the Moderna COVID-19 vaccine contained a 94% effectiveness in fighting against the COVID-19 virus. As of right now, they are still awaiting the approval of the FDA concerning their test results, according to 10 Boston News.
Pfizer is another biomedical research organization that is responsible for bioengineering a COVID-19 vaccine. They are in their testing phase. Pfizer opened the study to only teenagers 12 to 17 years of age, according to Dr. Mobeen Rathore in an interview with News4jax Consumer Investigative Reporter Lauren Verno.
"Currently, the studies that are available are for children 16 and 17 years of age only. And Pfizer has already started their study where they are including children as young as 12 years of age," Dr. Rathore said. "So hopefully the next few months — five, six months — we will have data for our children, and then children would be included in these vaccine programs".
Dr. Rathore highlights the importance of sending students back to school. He claims that the first step to doing this would be to focus their attention on the adults and people who will be spending their time around these children. He specifically puts emphasis on protecting the children regardless of whether they get sick or not.
"We need to get children back to school. There's no argument about that," Rathore said. "At this point in time, let's focus on those who are around children until we wait to find out the results of the trials and then have it available for children."
"Children should get the vaccine even if everybody else gets it, because children need to be protected also," Rathore said. "Even though children may not get very sick most of the time, they do get sick, they do get hospitalized, they do get into the ICU and intubated and they do die of it. And then also don't forget, we have this illness that occurs several weeks later, the MIS-C."
Dr. Rathore also speaks candidly about the vaccine study in his interview. 
"There's no reason to expect that the vaccine will not be safe in children," Dr. Rathore said in an interview with Verno. "But until you do the studies, you don't know."
With regard to the government's plans to return back to in-person schooling, no official information as to how state governments are planning to reopen schooling has been released. 
"I think the fact that we're not mandating [the vaccine] helps our credibility because the minute you mandate many people would be in the corner, and you would have a lot of problems," Gov. Ron DeSantis said in an interview with Verno. "So we're offering it, we want as soon as there's enough supply for everyone who wants it to get it free of charge that's that's the goal that will take months, but that's the goal, but no one will be forced to take it."
Some governors have spoken up about the issue claiming that when the vaccine is approved or in its last stages of development, they will be promoting its administration onto the public and encouraging people to receive it. 
Correction: In an earlier version of this article it was incorrectly stated that the local hospital administering the Pfizer COVID-19 trial was in the city of Sunnyvale, despite being close to the Sunnyvale city limits, the Kaiser Permanente Santa Clara Medical Center is in fact in the city of Santa Clara.
View Comments (1)
About the Contributor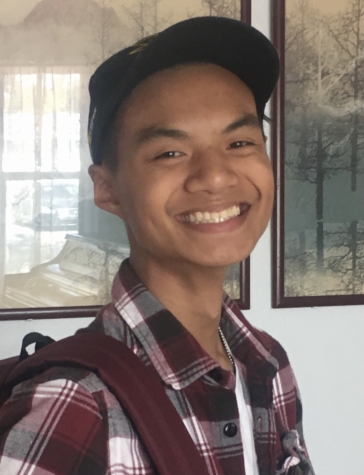 Jedric Rosales, Staff Writer
Senior Jedric Rosales is a staff writer for The Phoenix. He is also a singer, a blog writer for the Rosalian Spirit, and an herbalist. In his spare time, you can typically find him enjoying walks through church courtyards, cozied up with a book and a cup of tea, or writing a new post for his blog.