February athlete spotlight: Yuval Lewit
16-year-old Yuval Lewit is a junior and a power forward on the Fremont Varsity Boys Basketball team. He spent two years on the JV team, with the 2022-2023 season being his first year on varsity.
During the 2021-22 season, Lewit predominately was used as a sub for the JV team due to a recovering broken arm and a surplus of players on the 21-22 JV team. However, he has improved so much so as to be a regular starter for games in the 22-23 season. 
"[His playing] has been really good," Dan Chizik, co-captain of the varsity team said. "His three point percentage is really high and every time he makes a shot he doesn't really miss. And with all the injuries we've had this season, he's really stepped up." 
The FHS Varsity Boys Basketball team is currently doing well in the league and halfway through their three-month season. Despite their winning streak, the team has suffered a few setbacks, as a few of their players have gotten injured. The team roster this year is fairly large, however, and the team is able to persevere despite these setbacks. Lewit currently plays every position as a four power forward, a primary shooter for the team similar to the role of center.
While being on a Varsity team is quite a responsibility, Lewitt sees the game as a good way to relieve stress rather than an added stressor. He also appreciates the experience of the added playing time and being able to help his team.
"Playing keeps my mind off of things and I'm just able to do one thing at a time, like focusing on a game," Lewit said. "I appreciate being able to prove my worth to the team and that I'm just able to help out."
Basketball has long been Lewit's passion, having played for quite a long time and being committed to the sport. 
"I started playing in first grade in Israel, and I just went to practice every day, and I just kept going when I moved here," Lewit said. "My older brother used to play basketball here as well… That made me want to keep playing it."
Lewit briefly played club basketball a few years ago but much rather prefers the feeling of kinship with being on a school team, rather than switching teams every few months. 
Although Lewit says that having played the sport for such a long time has given it a feeling of familiarity, he also says that he really appreciates the sense of community he has found with the team. He mentions that the team dynamic this year is very close knit and something that has really helped him through the season. 
"[The team] has very good chemistry together, like a family," Lewit said. "It feels like a new family that you can be with wherever and who help with everything. We always talk with each other and we're always coming."
Basketball is a very teamwork oriented sport and relies completely on the success of how well a team works together, a possible factor for the achievements so far of the Boys Basketball team this season.
After high school, Lewit plans on focusing on computer programming for the Israeli army, and while he doubts these plans will include basketball, he is satisfied with playing for fun in the future.
Leave a Comment
About the Contributor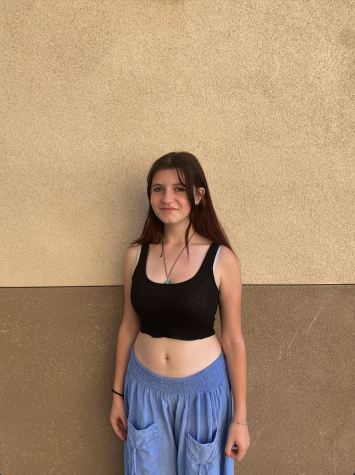 Beatrice Levine, Creative Editor
Beatrice Levine is Creative Editor. This is her second year on the Phoenix and she is a junior at Fremont High School. She enjoys watching movies, playing goalie on Field Hockey, and spending time with her kittens.