Malcolm and Marie Movie Review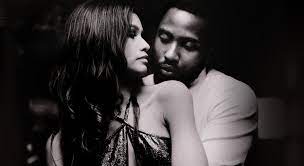 The filming for Malcolm and Marie began in 2020 in Carmel, California. It was released on Netflix on Friday, February 5th of 2021. John David Washington plays the role of Malcolm, a rising-star filmmaker opposite to Zendaya, who plays the role of Marie, Malcolm's girlfriend, an actress and a former drug addict. Sam Levinson, the director of the movie, stated that he had wanted to start a bigger conversation and he succeeded, but not in the way he wanted to. The bigger conversation that he had sparked was just a multitude of reasons as to why you should hate Malcolm and Marie. Mary McNamara, American journalist, states, "Indeed, at this point, he probably has spent more time responding to criticism of 'Malcolm & Marie' than he did writing it". It is also said that Levinson, a white director, stated his real-life opinions on experiences with black people in the movie during one of Malcolm's several minute long soliloquies. 
Malcolm and Marie is about an extremely dysfunctional relationship between two people who are both enormously privileged and selfish. The movie starts with Malcolm and Marie coming home after Malcolm's successful movie premiere. His movie was inspired by Marie's life as a drug addict. When Malcolm arrives home, he is overwhelmed with joy and basking in endorphins, whereas Marie is irritated for reasons that have to be forced out of her for the remainder of the movie. The plot of Malcolm and Marie amounts to nothing more than a seemingly never-ending argument between the both of them. In the beginning of the movie, Marie is the one who you root for because Malcolm is clearly an egotistical, self-involved man shouting out unnecessary and cruel insults. However later in the movie, it is proven that Marie is just annoyed and upset that she wasn't cast as the lead in his film that was partially based around her life. "Ultimately, the argument is simply a clash of egos", Olive Pometsy, British journalist states.   
Sitting through an hour and 46 minutes of a movie and leaving with little satisfaction is a very annoying revelation. Both actors are great at playing their roles convincingly, but the movie's plot is essentially two characters hurling insults at each other for almost 2 hours. The actors make you believe that there might be something interesting about to happen between the two, but the trouble is that something never arrives. The film is hard to watch, although the actors' performances almost make it worth it. 
Leave a Comment
About the Contributor

Natalie Behrens, Staff Writer
Natalie Behrens is a freshman and a staff writer for The Phoenix. She loves to play soccer, bake and travel. She hopes to go to college and study criminal psychology one day.