NCAA sexism: female athletes speak out about March Madness inequalities
Every year the National Collegiate Athletic Association (NCAA) puts on March Madness, a national college tournament for men's and women's basketball. This serves as a time for athletes to compete for a title, showcase their individual abilities to prospective National Basketball Association (NBA) or Women's National Basketball Association (WNBA) scouts and it is widely regarded as the highlight of these athletes' seasons. This year, the men's and women's tournaments take place in separate "bubble" locations, with COVID-19 being a factor in planning so far. Recently, female collegiate athletes have spoken up via social media about the disparity between equipment and resources received. 
Pictures showing different "swag" bags received by players and different workout spaces made their rounds on Thursday, Mar. 18. The men received a myriad of objects in their bag, including various cleaning and hygiene products, a hoodie, towels and a book. However, the women received much less — a t-shirt, hat, scrunchie and two water bottles highlighting their bag. This obvious disparity is unfair to the female athletes and NCAA officials have done little to compensate. If this was not enough, the workout spaces are increasingly different. The men received multiple socially distant stations to work out with a variety of equipment while the women received a set of dumbbells and a few yoga mats, which athletes are expected to share despite COVID-19 rules. Keep in mind, 64 women's teams participate in March Madness. 
In addition, the difference in food quality received by male and female athletes was questionable, with women receiving cafeteria-esque individual meals and men receiving many trays filled with better food. The women's and men's bubbles use different COVID-19 tests as well, with the men using daily PCR tests and the women using daily antigen tests. According to the FDA, daily antigen tests have a greater chance of failing to detect an active infection. There has been no explanation behind the use of different tests.  
Lynn Holzman, the NCAA Vice President of Women's Basketball, released a statement regarding this disparity. 
"We acknowledge that some of the amenities teams would typically have access to have not been as available inside the controlled environment," Holzman said. "In part, this is due to the limited space and the original plan was to expand the workout area once additional space was available later in the tournament." 
She also stated that the difference in "swag bags" was due to the different types of weather in San Antonio, where the women's bubble is located, and Indianapolis, the location of the men's bubble. 
In addition, NCAA Senior vice president of basketball Dan Gavitt placed the blame on himself, apologizing to the female athletes and coaches. 
Seemingly in response to this, Oregon Ducks basketball star Sedona Prince made a TikTok viewing the female's workout room in real time, turning the camera to show a large open space adjacent to the women's workout equipment. So, space was not the problem. 
Title IX, a federal civil rights law, "requires the equal treatment of female and male student-athletes in the provisions of (a) supplies and equipment," amongst other things. The NCAA not only is treating female student athletes like they matter less, they are also in direct violation of this law. 
As of Saturday, Mar. 20, multiple brands have pledged to donate equipment to add to the women's workout space, including Dick's Sporting Goods. In addition, Orange Theory offered delivery of its equipment and pledged to help. It is depressing that it has come to this: female student athletes should not have to rely on donations in order to have the same amount of equipment as their male counterparts — they should receive equal resources from the NCAA outright. Regardless, it is a step in the right direction.  
Plenty of WNBA and NBA athletes have attempted to bring attention to this issue. A'ja Wilson, Las Vegas Aces star and reigning WNBA MVP, tweeted that the situation was "beyond disrespectful." Natasha Cloud, a Washington Mystics player, tweeted that it was "exhausting [to fight] for the respect that we deserve." NBA athletes such as Kyrie Irving, Steph Curry and Ja Morant expressed their support for the female athletes and called out the NCAA for the inequality. 
Regardless, female athletes are always subject to criticism and sexism whenever they bring up treatment disparities, and this instance was no different. Social media users love to bring up the profit argument, as seemingly women cannot make enough money in revenue to fund an adequate workout space. Go figure. In addition, former NBA athletes such as Nick Young made their opinions known via Instagram comments. Young, once again, cited the revenue and referred to the women's teams as the "JV team." 
The continued disrespect that female athletes have to deal with is laughable. What is supposed to be a fun, important tournament can transform into another obstacle which has to be overcome. This can be shown through the March Madness official Twitter account, which states that it is an NCAA men's tournament, with no mention to the female athletes. 
"How can we explain that to our players?" Dawn Staley, South Carolina women's basketball coach, said in a statement. "How can an organization that claims to care about ALL member institutions' student-athlete experiences have a copyrighted term that only 'represents' one gender?" 
In addition, Chiney Ogwumike, a WNBA athlete, made an appearance on ESPN recently to discuss her opinion. 
"How is a system that is profiting off of this grand stage, this system that's supposed to support these athletes, how are they reinforcing negative gender stereotypes like that?" Ogwumike said. "It's unacceptable. This, overall, is just another reminder that women are top-tier athletes. To barely have gym equipment, to not have accessibility to decent food: women deserve better. Period. And it's women's history month. It's time for everyone to level up."
Modern college athletics have no place for unequal treatment of student athletes on the basis of sex. Do better, NCAA. 
Leave a Comment
About the Contributor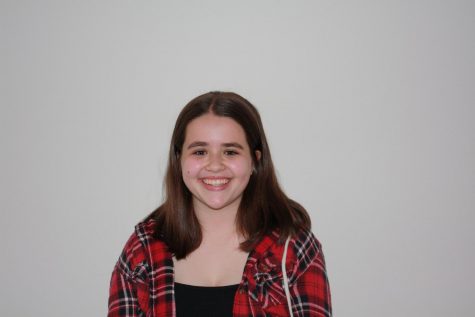 Emily Wilson, Staff Writer
As an Editor-in-Chief, senior Emily Wilson is one third of the Phoenix upper management.  She often jokes about being emotionally dependent on NBA basketball (go Nuggets), but she actually is, to a rather depressing extent. She thinks "I Bet You Think About Me" is the best vault song from Red (Taylor's Version).