Pieces of a Woman review
Pieces of a Woman begins with a thirty minute, largely continuously shot scene of a (at times tastefully graphic) home birth. We move from the living room carpet to the bathtub, then from there to the bed. The camera focuses on Martha, played by Vanessa Kirby, as she screams and swears, on her husband Sean (Shia LaBeouf), who is devoted and nervous, and on the midwife, played by Molly Parker. It's Parker's face that showcases the tone of the scene, the up and down, back and forth motion of it. Nervousness and unease alternates with joy and hope; when the baby is first born there is obvious relief before she realizes that the baby is turning blue. This thirty minute scene is the best in the movie, and the remaining hour and a half slowly drags all of its character's downhill with a plot line that feels unnatural and distracting. 
There is Sean's plot line, which is trite and cliché. Amidst the abuse allegations toward LaBeouf, it's also impossible to ignore the similarities between the allegations and his on-screen performance. A previously sober alcoholic, he starts drinking again and stops going to work. He sleeps with his lawyer, Martha's cousin, and later even vaguely asks her to run away with him. His relationship with Martha dissolves and he becomes forceful and violent – during one conversation he throws a yoga ball at her face. 
Then there is a confusing legal action against the seemingly innocent midwife, a strange diversion from Martha's story and the overall melodramatic tone. 
But, when Kirby is on screen, the story seems to click and achieve the desired effect. Kirby, who received a Primetime Emmy nomination for her performance as Princess Margaret in The Crown, translates a dense anguish and an acute sense of being alone. She wanders streets and supermarkets, seeming to be in a perpetual daze while also having an increased awareness of the life around her. On the subway she watches parents and children, and in a department store she stares back, entranced, at a girl staring upwards at her, before she looks down and realizes that her shirt is stained with postpartum fluids. Kirby constantly eats apples – which we later learn is because her daughter smelled like them – and in one scene she gently lays their seeds on damp cotton pads to sprout. Very little of Martha's story is especially dramatic (save for one court scene where she delivers an impassioned speech that is a little contrived and awkward) but with startling intensity Kirby demonstrates how even the small things change in the light of the bigger tragedy. 
Pieces of a Woman delivers an emotional and raw portrayal of a stillbirth and its aftermath with an achingly powerful performance by Kirby, but its plot and characters run off into directions that do not seem pertinent and disturb Martha's narrative. Maybe watch the beginning, but do not feel compelled to finish the whole film.
Leave a Comment
About the Contributor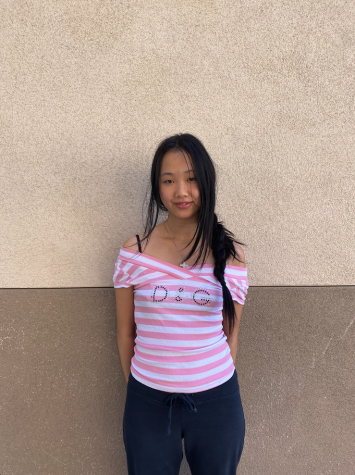 Sara Chow, Alum
Sara's one of the A&E editors. She loves clothes, movies and books, and has a pet guinea pig named Cinnamon.