Spotlight: Allison Ma
After a successful swim season, junior Allison Ma is incredibly grateful for the opportunities FHS has given her to further her athletic career. 
Ma has been swimming since she was five years old, inspired by her older sister. Since her freshman year, she has been a part of the varsity swim team, this year being her first year as varsity captain for the girl's team. The season beginning in late February, the swim team has participated in weekly swim meets with the six other schools in the El Camino Division. Ma competed in the El Camino League finals at Lynbrook High School from April 26 to April 28, 2023, qualifying for CCS in the 200 individual medley relay, 50 freestyle and 100 butterfly events. 
Though Ma stopped swimming for the Santa Clara Swim Club in early December, she has been just as competitive, if not more than previous years. Ma swam for the first time in CCS since starting highschool.
"Since 2020, this has been the first year the FHS girls have qualified for CCS,"  Ma said. 
As varsity captain, Ma believes that teamwork, communication and compassion are the most important aspects of being on a team. Through her time on the team, she has made friendships that she will value for the rest of her life. 
During freshman year, Ma also joined the varsity girls' water polo team, with the season being pushed to spring due to COVID. Despite the abnormal year, Ma enjoyed the water polo season and continues to be an integral part of the team. 
"I really encourage people to go out and try new sports even if they aren't confident in their abilities," Ma said. "It's a really great opportunity to meet new people and to grow as a person." 
After deciding to take a break from club swimming, Ma joined the wrestling team on a whim. 
"Wrestling taught me a lot," Ma said. "The coaches are super wise and care a lot about the sport, and many people might not know but people put a lot of hard work into the sport." 
When it comes to advice on how to succeed as a student-athlete, Ma believes that academics should always be first priority. 
"It can be super stressful, always prioritize your mental health," Ma said. "Put your needs first. Don't put too much on your plate, only take on what you can handle."
Ma looks to continue her athletic journey in the following year. 
"Even though I don't look to pursue athletics in college, each of the sports I have done have taught me a lot," Ma said. "There is a lot of work that goes into being a student-athlete that people don't always expect." 
Leave a Comment
About the Contributor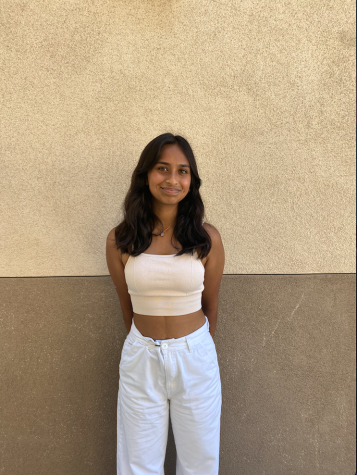 Shraddha Sriram, Design Editor
Shraddha Sriram is a junior and Design Editor. In her free time, she enjoys listening to artist such as Kendrick Lamar and Baby Keem as well as going on Starbucks runs with her friends. She is also a part of the school's robotics organization and softball team.