Everything Everywhere All at Once Review
"The best movie I've seen in a very long time." (Google reviews)
Movie fans and movie critics alike are losing their minds over the new movie, "Everything Everywhere All at Once." This 2022 science fiction and comedy film combine the real world and fantasy as it discusses a Chinese immigrant's journey through the space-time continuum. Created by directorial team Daniel Kwan and Daniel Scheinert, also known as "The Daniels," it is their first venture into the science fiction genre. The film focuses on Evelyn Quan Wang (Michelle Yeoh) as she struggles to keep her family's laundromat open. Wang copes with her failing marriage with her Husband, Waymond(Ke Huy Quan); the broken relationship she has with her daughter (Stephanie Hsu); and trying to regain the trust of her father (James Hong). The movie dives into the idea of "being everywhere and doing everything all at once," with the first hour mostly being a sense of controlled chaos as she explores the concept of a multiverse, with her being at the center of it. The movie explores pain, loss, rebirth and finding oneself through expertly done choreography and special effects. The idea of a multiverse is not new in cinema; however, this movie takes it to a whole new level, combining paranormal aspects and everyday life. With its wild twists and turns, summarizing would be almost impossible as the 2-hour movie takes the viewer on a wild ride.
After its limited release on March 25, 2022, and national release on April 8, 2022, this blockbuster topped $40 million in box office sales. This massive revenue won it a spot as A24's third most successful movie and the outlook is good for its Oscar chances. A24 is an independent movie company, specializing in the production of television and film. In spite of its success, releasing this specific film around the same time as Marvel's "Doctor Strange: Multiverse of Madness"s was a risky move for The Daniels, as both movies explore breaking the space-time continuum. Luckily for the team, however, "Everything Everywhere All at Once" managed to survive at box offices and is still doing well in theaters despite Marvel's new release. A reason for this might be that "Everything Everywhere All at Once" differs from many other movies released this year. The film acts as a stand-alone story — not as a sequel, character portrayal, or book adaptation. This might explain its success in theaters, as many viewers tire of stories that they have heard before. Fremont students, movie fans and casual moviegoers should definitely go out and buy a movie ticket — or stream it on Amazon Prime when it gets released on May 17, 2022.
Leave a Comment
About the Contributor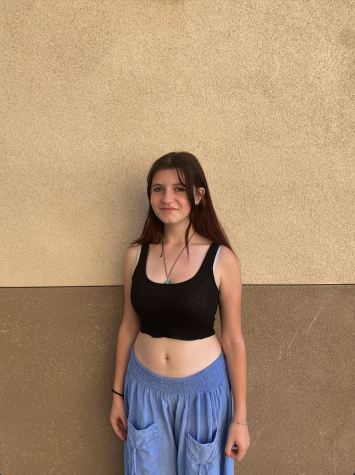 Beatrice Levine, Creative Editor
Beatrice Levine is Creative Editor. This is her second year on the Phoenix and she is a junior at Fremont High School. She enjoys watching movies, playing goalie on Field Hockey, and spending time with her kittens.