Evolution of the "big man" in the NBA
Six years ago, during the 2015-2016 season, three centers were named to an All-NBA team: DeAndre Jordan (first team), DeMarcus Cousins (second team) and Andre Drummond (third team). In theory, this signified that these players were three of the best 15 players in the NBA. 
However, five years later, Jordan agreed to a buyout with the Detroit Pistons, essentially implying that his time on the court did not have as much value as his contract. Cousins has been signing minimum contracts (usually reserved for veteran players who cannot offer much on the court) and being waived (released from duty, usually when teams cannot use a player anymore) for two years. Drummond agreed to a buyout in 2021 and joined the Lakers where the public made jokes about his relative skill level (low) and laughable mistakes. He has been signing minimums since. 
Not only were these players historically less talented than the dominating big men of the past (Wilt Chamberlain, Kareem Abdul-Jabbar), their quick fall from grace showed that maybe they were not that special in the first place — ironic, considering that according to the 2016 All-NBA teams, they were supposed to be elite. 
This supposedly signified the downfall of the superstar big man of the NBA. Gone were the days of dominant centers or power forwards like Shaquille O'Neal or Tim Duncan; instead small forwards and guards like LeBron James and Stephen Curry would step into the limelight. Teams transitioned to smallball (where shorter forwards were played at the center position), which saw a significant amount of success with the Houston Rockets, who employed 6'5'' P.J. Tucker as their center during the 2019-20 season, The Golden State Warriors, whose patented "death lineup" (a lineup that was so good, it meant certain death for the opposing team, because they had no hope to stop it) ran 6 '6'' Draymond Green as their center. Now, the Rockets are far from successful (they had the worst record in the NBA this past season) and the Warriors usually start 6 '9'' Kevon Looney as their center. There is a reason smallball went away: the days of the big men are back.
Seven-footers Nikola Jokić, Giannis Antetokounmpo and Joel Embiid are widely regarded as top ten players and all three have seen an immense amount of success with their teams in recent memory. 
These three players, among others to a lesser extent (Honorable mention: Three-time Defensive Player of the Year Rudy Gobert, or possibly the best big man shooter of all time Karl-Anthony Towns), have rendered smallball lineups ineffective: you cannot let a player take on someone six inches taller than him in the post. That is a bucket. 
Antetokounmpo, lovingly referred to as the "Greek Freak" by fans, is one of the most dominant paint (referring to the painted area directly in front of the basket) players in modern history. During the 2018-19 and 2019-20 seasons, in which he won MVP, he averaged 17.5 points in the paint alone. For context, during Jordan's first team All-NBA season, he averaged 12.7 points total. Antetokounmpo's first MVP win in 2019 ended a period where forwards (James, Kevin Durant) and guards (James Harden, Curry, Russell Westbrook) dominated the award: the last time a power forward won the award was 2007, when Dirk Nowitzki won it. The improbability of Antetokounmpo's journey from a skinny, unknown Greek prospect to a widely known NBA icon shows how special his presence in the NBA is. In 2021, he led his team, the Milwaukee Bucks, to an NBA championship: the first for the franchise in 50 years. For his efforts, Antetokounmpo won Finals MVP, which only added to his vast collection of awards: the 2017 Most Improved Player Award, a Defensive Player of the Year award, two MVP awards and a number of All-NBA selections. 
Another player with a similar rise to fame and subsequent award collection is Nikola Jokić, the Serbian center for the Denver Nuggets. Jokić was drafted during a Taco Bell commercial with the 41st overall pick (picks this late rarely pan out, hence ESPN's penchant for advertisements rather than detailed coverage) and slowly became better and better. No one expected him to become an All-Star and All-NBA player, let alone MVP — which he won during the 2020-21 NBA season. He won MVP for this season as well (wherein he had the highest box plus-minus of all time). Jokić's back-to-back MVP campaigns are especially impressive because the Nuggets' second best player, Jamal Murray, did not play for the last part of Jokić's first MVP season, and all of this past season. In addition, the Nuggets' third best player, Michael Porter Jr., only played nine games this season. Jokić was able to carry a depleted team to a top six seed, led by his elite scoring and passing. He averaged 27.1 points this season, the sixth most in the NBA. However, scoring is not even his best skill — Jokić is widely considered one of the best big man passers of all time. He has truly revolutionized the position: the Warriors were not running a box-and-one (a defensive coverage usually reserved for ball-dominant guards) against DeAndre Jordan, but they did against Jokić in this year's playoffs. Jokić is not fast, or very athletic, but he will kill with his basketball IQ, passing and elite shooting. 
Joel Embiid was a higher draft pick compared to Jokic and Antetokounmpo, and therefore received higher expectations — but he still blew those expectations out of the water. Although Embiid does not have the same accolades compared to the others, he is still an incredible scorer, with some arguing that circumstance is the only reason his team, the Philadelphia 76ers, has not seen much success. Embiid has had to deal with the team's second-best player, Ben Simmons, not playing for mental health reasons (Simmons' presence on the court would have undoubtedly helped). Even though Simmons was traded for Harden midway through this past season, Harden has not performed up to expectations yet, leaving Embiid again to carry the load. Embiid averaged the most points in the NBA this year — a rarity for a center — with 30.6 points, while arguably playing at an All-Defense level. He is one of the best examples of an elite two-way player. 
Jokić, Antetokounmpo and Embiid all have different playstyles. But their continued presence as large, dominant players throw off different NBA teams and force them to alter their game plan. Although Jokić ultimately won MVP, all three of these candidates could have amicably won the award, which does not happen every year, much less with three international big men. We have come a long way from Andre Drummond. 
Leave a Comment
About the Contributor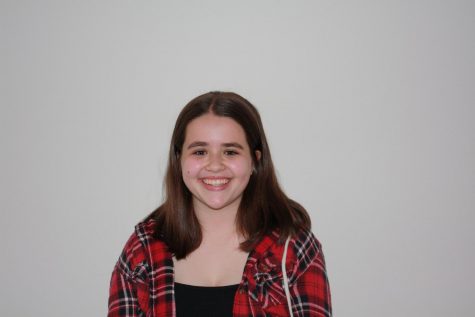 Emily Wilson, Staff Writer
As an Editor-in-Chief, senior Emily Wilson is one third of the Phoenix upper management.  She often jokes about being emotionally dependent on NBA basketball (go Nuggets), but she actually is, to a rather depressing extent. She thinks "I Bet You Think About Me" is the best vault song from Red (Taylor's Version).