"Glass Onion" Review
Rian Johnson's "Glass Onion: A Knives Out Mystery" finally released on Netflix over the holiday season. The long-awaited sequel to Johnson's 2019 film "Knives Out," "Glass Onion" once again follows Benoit Blanc, the private investigator heralded as "the worlds' greatest detective," who is played by the former James Bond actor Daniel Craig. 
In "Glass Onion," Blanc is invited to a murder mystery getaway on tech billionaire Miles Bron's (Edward Norton) private island. Miles Bron made his fortune by co-founding Alpha, a wildly successful tech company. There, Blanc meets Bron's "disruptors," as he affectionately refers to them. The disruptors include Connecticut's governor (Kathryn Hahn), a washed up model (Kate Hudson), a "men's rights" Twitch streamer (Dave Bautista) and Alpha's head scientist (Leslie Odom Jr.). While they seemingly have no connection to each other, it is revealed that Bron had a hand in making each of them successful. The real surprise, however, comes when former disruptor and Bron's old business partner Andi Brand (Janelle Monet) crashes the party, showing up for the first time in years. Questions fly and bodies drop as Blanc races against time to find the killer hiding in plain sight. 
While "Glass Onion" masquerades as a simple murder mystery movie, Johnson's film is a carefully crafted critique of those who are on the top of society. Bron may be one of the richest men in the world, but he is still just a stupid man who got lucky, not the savior he and those around him believe him to be. Bron believes himself to be a cultured man, displaying the Mona Lisa in his very own glass onion house – hence the double entendre in the name – but he is nothing more than a man with a checkbook. 
Johnson's critique of the rich and powerful does not stop there. In Bron's house, the Mona Lisa is housed in a glass case that slams shut at any sign of danger. Bron, in all his pride, installs a button that prevents the case from closing. In a pivotal moment during the film, the Mona Lisa, the most famous painting in the world, is destroyed — because of Bron's carelessness. 
It is almost as if Johnson is aiming an arrow directly at the heart of the company who produced the movie: Netflix. Just like Miles Bron, Netflix was a "disruptor" of its time. Netflix was the first streaming service, and at one point, it was the hub for almost all entertainment. With the click of a button, almost any movie could be accessed for just $10 a month. However, as Netflix's recent string of show cancellations would suggest, the company is wildly in debt—yet it still makes room to give blockbusters such as "Glass Onion" huge budgets to burn. It is almost ironic that Johnson uses his $60 million budget to jab at how the rich destroy art, because that is exactly what streaming services like Netflix do. 
Like many Rian Johnson movies, "Glass Onion" is so much more than what meets the eye. Viewers can choose to watch it as a simple "whodunnit," but just as the title of"Glass Onion," there are layers to the plot. The plot twists and quirky characters keep the viewers engaged, but at the end of the day, "Glass Onion" is a commentary on those in power and a criticism of the pompous culture of the rich. 
Leave a Comment
About the Contributor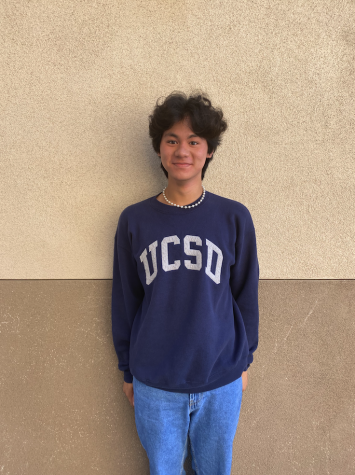 Lucas Li, Staff Writer
Lucas Li is a sophomore and staff writer for The Phoenix. Lucas loves listening to music, and he also plays the guitar. In his free time, he enjoys spending time with his dog.