Harry Styles' Love on Tour stops in San Jose
Harry Styles's Love On Tour World Tour has finally begun. The tour was originally announced on Styles' Twitter on Nov. 13, 2019. However, similar to everything else that has taken place during the pandemic, things did not go according to plan. Styles' tour was postponed from June 2020 to Aug. 2021 and then pushed back once more before ultimately starting on Sept. 4, 2021, in Las Vegas at MCM Grand Garden Arena.
The former One Direction singer stopped to perform in the Bay Area on Veteran's Day, Nov. 11. Styles is notorious for his bold yet incredible [fashion choices, contagious energy, audience engagement and interactions, random dancing and unfortunately terrible jokes.] With the SAP Center having over 17,000 seats — a sold-out show — the expectations and enthusiasm were high.
Hours before doors were to be opened, lines had already formed at the entrances.  Fans were quaking with excitement for the opportunity to be in the same building as Harry Styles. Fans showed up in the most fashionable outfits. Many wore boas, frog bucket hats or the iconic Watermelon Sugar heart sunglasses.
The lines slowly began moving around 5:50 p.m as fans had to provide proof of vaccination and sludge along through security and bag check. Right at 6:05 p.m the SAP Center doors officially opened and along with them, absolute chaos. Fans sprinting up the stairs to be the first in the merch line or get to the front of the pit.
The show started at 8:00 p.m and was opened by Indie artist Jenny Lewis. Opening with a cover of the song Silver Lining by Rilo Kiley, the concert began. Lewis performed a total of seven songs, three from her 2014 album "The Voyager" two from her most recent album "On the Line" and her newest single "Puppy and a Truck." Although many were unfamiliar with her music prior to the concert, fans showed her the love and attention she deserved.
The short intermission was filled with excitement. Everyone was dying with anticipation for the moment we all had been waiting for.
When the lights became blue and Style's band began to come out on stage fans knew it was minutes until the show began.
Styles's band began rolling out decked in matching monochromatic white outfits. There were new additions to his band with Elin Sandberg on bass guitar, Niji Adeleye on piano, Pauli Lovejoy on percussions and Ny Oh on piano and vocals. With returning musicians and fan favorites, Adam Prendergast on bass guitar, Mitch Rowland on guitar and of course Sarah Jones on drums. Opening with the intro to "Golden," Styles raised onto the stage, guitar in hand. The stadium erupted into a tornado of emotions. On top of the deafening screaming, tears were shed and dreams were realized. Styles of course was head to toe in custom Gucci. He sported a bright pink shimmery long sleeve, extremely hot pink trousers, light pink suspenders and nude leather boots. This is a vast contrast to what he wore at SAP on his last tour in 2018, [a blue floral print silk suit. But of course still Gucci.] Styles performed a total of eighteen songs, the vast majority of which coming from his 2019 album "Fine Line" but a few goodies from his first album "Harry Styles" as well. Of course, Styles had to honor his roots singing a One Direction classic "What Makes You Beautiful". While singing "Treat People with Kindness", Styles ran across the entire stage with a Pride flag. During the short intermission, Styles gave a shout-out to two fans declaring them "the happiest women he has ever seen," helped a fan come out and made a comment saying "It smells like California down there." Closing out the show with "Fine Line" Styles went across both stages blowing kisses, repeating thank you's and as the last note played the lights dimmed.
Of course, a minute later the stage lights turned back on into a bright pink. Styles introduced his band while they played the intro to "Watermelon Sugar." They received well-earned cheers and screaming from the stands.  Harry then sang "Sign of the Times" and of course it would not have been a Harry Styles concert without "Kiwi." Red and white lights flashed and the crowd erupted into chaos. Throughout the show, some of Styles' fans threw water at him. He decided to get his revenge by throwing water back at them. As the chorus ended Styles blew more kisses and with a final bow, he walked off the stage treating people with kindness.
Leave a Comment
About the Contributor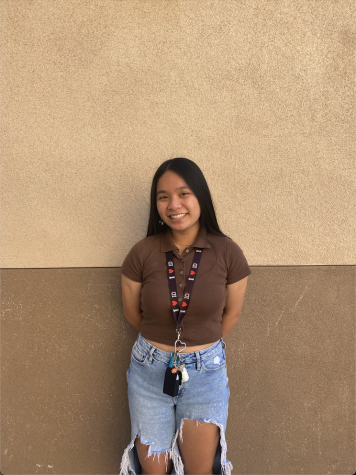 Madelyn Nguyen, Alum
Madelyn Nguyen is a current senior and one of the Managing Editors for The Phoenix. In her free time she loves to read, rock climb, and listen to music. Ninety-nine she is either listening to One Direction or caffeinated. But usually it is both.