Movie review: The 40 Year Old Version
The synopsis of Radha Blank's debut, The 40 Year Old Version, reads "A down-on-her-luck playwright thinks the only way she can salvage her voice as an artist is to become a rapper at 40." Reading that I thought this was going to be a success story, another 'person in their mid-life crisis finally makes it big' arc, but The 40 Year Old Version is anything but. 
Radha Blank is the writer, director, and star of this autobiographical film based on, well, Radha, a struggling playwright who teaches to pay the rent. A decade ago, she was named a promising under-30 talent, but everything has slowed to a stop since then. The distinction, however, is still brought up constantly: a reminder of potential, or perhaps, potential unfulfilled. Alfie, her agent and childhood best friend, desperately tries to fan the flame of her career, though her impulses often make it difficult for him. In her personal life, Radha avoids calls from her brother asking her to come to sort through her dead mother's things. 
The movie is filmed monochromatically, like Woody Allen's Manhattan or Greta Gerwig and Noah Baumbach's Francis Ha, and similar to these films The 40 Year Old Version is an ode to New York and it's suffering artists. The production of Radha's new play about a Black couple is twisted by a director and an eminent producer, white 'progressive thinking' liberals who turn it into a self-serving story of gentrification. Radha wrestles through the prospect of losing her artistic integrity and selling out versus her desire for success. Meanwhile, with her rapidly dwindling interest in playwriting, she attempts to become a hip hop artist. She raps about her middle-aged perspective and black suffering, pouring out her rage and resentment. 
The 40 Year Old Version is rare in that the subject matter is explored through its portrayal. Radha changes her play to appeal to a widespread, or really, more white audience, shifting it into a story that is less genuine but more emblematic. You have to wonder if the film itself went through such adjustments: giving up aspects of the truth in exchange for symbolic import. But The 40 Year Old Version feels rawly authentic. There is no success storyline, no rise-from-the-underdogs moment. Instead, you get a sincere portrait of a wholly unique character, an artist, trying to be heard in a world that would rather have a commodification of her pain as a Black woman. 
Oh, and The 40 Year Old Version is funny. Radha's small jokes and on-the-spot riffs sparkle with wit, and the side characters seem to be caricatures of real personalities. The white people condescendingly roam the world with misguided good intentions, telling Black people how to tell Black stories. The producer of her play tells her that she should add a "sassy black woman" to the play and the director refuses to acknowledge the differences between a white and black woman. 
The 40 Year Old Version is a triumphant debut for Blank, a beautifully real satire that is funny though at times painful. It explores the realities of being an artist – of having to compromise art for commerce, as well as the realities of being Black – the difficulties of true authenticity. The film is a celebration of Radha, of everyone like her: artists and African Americans, people who feel out of control and angry. Maybe even, it's a celebration of the Radha in all of us.
Leave a Comment
About the Contributor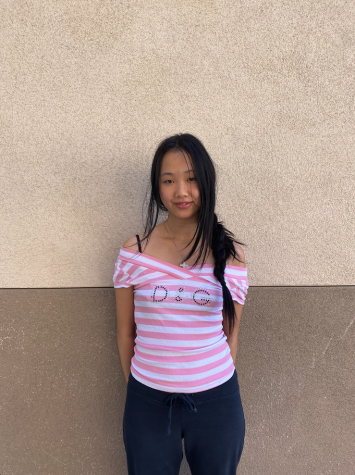 Sara Chow, Alum
Sara's one of the A&E editors. She loves clothes, movies and books, and has a pet guinea pig named Cinnamon.