New boba truck opens
Justeas, a boba truck, opened on the morning of Monday, Jan. 10. This news thrilled many avid boba fans at Fremont.
The truck, parked next to the Shell gas station across the street from Fremont, is within a convenient walking distance for students to walk to. The Justeas menu has three sections consisting of milk teas ($4.50), slushies ($5) and flavored teas ($4). Their prices are quite affordable, as no drink is above $5. In total, they have 24 types of drinks to choose from. In addition to their menu on their truck, they recently added a new flavor of boba: tiramisu. The drink price includes the choice of adding honey boba, rainbow jelly or mango/strawberry popping boba to the drink. Justeas also offers the standard ice and sugar adjustments. Justeas is open from 8am to 4pm from Monday to Friday, so students can grab a drink during lunch or after school.
On their grand opening, the coral truck was decorated with yellow and red balloons, as well as cute boba and heart stickers. A group of students eagerly gathered around, excited to try it out.
"The lady working there was really nice and patient," junior Nikita Kandilikar said. "They also have Apple Pay, which was convenient, and my drink came fast. You also get a lot of boba for the money you pay for. However, the flavor of the tea could be stronger."
A student-favorite drink has been the purple lighting drink (passion fruit tea) a refreshing drink during one's busy school day.
When inquiring with numerous students who tried Justeas, they admitted the flavor could have been stronger, but for the affordability and proximity to the school, it is a solid spot to go to.
With Justeas so close to Fremont, boba lovers can now rejoice as they can now easily satisfy any boba cravings they have!
To learn more about Justeas and get additional updates, check out @justeasboba on Instagram.
Leave a Comment
About the Contributor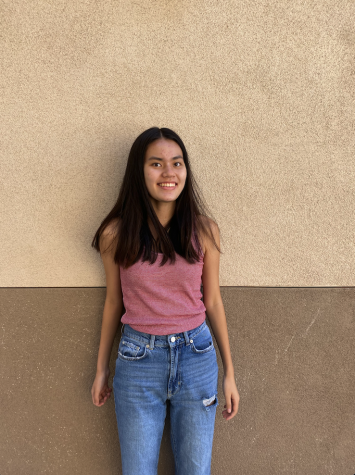 Caitlyn Chan, Alum
Caitlyn Chan is a senior and a Managing Editor for The Phoenix. She likes to read and ice skate in her free time, as well as visit new places.