COVID vaccination controversy: Aaron Rodgers
Since the beginning of the COVID-19 pandemic, many industries, including professional sports leagues and businesses, have experienced hardships, complete shutdowns, restricted rules of operations. Many companies have tried to create effective solutions to navigate the negative impact the virus has had on their business. Amidst the emergence of the Delta variant in 2021, the National Football League was fortunate enough to have time to develop a COVID safety plan for its players and staff throughout the league due to the season starting in September. Once the vaccines were determined to be scientifically safe and effective, the NFL incorporated them into their plan to best prevent the spread of COVID-19. In Aug. 2021, when Green Bay Packers quarterback, Aaron Rodgers, told the public he was "immunized," many did not question his words. This would prove to be problematic for Rogers later on when he tested positive for COVID-19 after he revealed that he was not vaccinated as was previously thought. Many fans and sports reporters were upset with his admission that he was, in fact, not vaccinated.
On Wed, Nov. 3, Rodgers tested positive for COVID-19 and went into quarantine. Later that week, he appeared on The Pat McAfee Show to address some of the public backlashes.
"I realize I'm in the crosshairs of the woke mob," Rodgers said. He also denied that he ever lied to the public saying, "I did not lie."
Many fans and supporters who strongly disagreed with Rodgers were disheartened by his response and were disappointed by how he failed to apologize for misleading the public. For the majority of the 45-minute conversation on the show, Rodgers spent considerable time explaining how he made the best decision for himself and how he encouraged others to do the same.
"I believe strongly in bodily autonomy and the ability to make decisions for your body," Rodgers said. "Health is not one size fits all … I made the decision that was in my best interest."
Rodgers opened up about how he was allergic to ingredients found within both the Moderna and Pfizer mRNA vaccines and determined that he would not consider taking them. He also mentioned his skeptical views on the safety of the Johnson & Johnson vaccine due to potential blood clotting issues. His overall attitude towards the approved vaccines appeared skeptical and distrusting of the research and possible lasting negative side effects that the vaccines might have.
Rogers' "immunization" strategy, instead, included a form of alternative medical treatment called homeopathy, which is not proven to be scientific. Most licensed medical doctors say that homeopathy is not based on factual evidence, but Rodgers was convinced by his selection of research.
"I'm not some kind of anti-vax flat earther, I am somebody that is a critical thinker," he said. "I march to the beat of my own drum." He said.
He noted in the interview that he had gathered over 500 pages of research and petitioned the NFL to accept his immunization protocol as equivalent to an official COVID-19 vaccination. The league office denied his request and he was consequently tested every day, which was in line with the league's unvaccinated player protocol.
"There was a witch hunt going on across the league where everybody in the media was so concerned about who was vaccinated and who wasn't," Rodgers said, making his feelings clear towards the league's COVID rules and the public's fears towards COVID-19.
Unfortunately, the one thing that he failed to mention in his initial interview was how others may have been negatively affected by his deceptive words and actions. In the Nov. 3 interview, he only talked about himself regarding his motivations and actions, and repeatedly mentioned the decisions that he made were in his best interest. Many noticed his emphasis on personal freedom and bodily autonomy with a complete absence of social responsibility or concern for the safety of others left many disheartened by his seeming lack of empathy.
In an interview four days later on the same show, Rodgers changed his statement slightly, saying, "I mislead some people about my status which I take full responsibility of." To the relief of many, he appeared to finally recognize that he negatively impacted others and took some responsibility for his actions. By the end of his mandatory 10-day quarantine, Aaron Rogers passed the league's eligibility screening and successfully played in his next NFL game on Nov. 14 against the Seattle Seahawks.
Leave a Comment
About the Contributor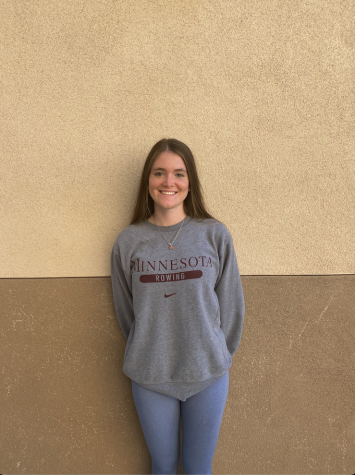 Elsa Pitsch, Staff Writer
Elsa Pitsch is a staff writer for the Phoenix at Fremont High School. This is her second year in journalism and hopes to learn more and continue writing. Some of her favorite activities to do is listen to music, hang out with friends and ski race. She looks forward to this year at the phoenix and working with fellow journalists.