Encanto movie review
Walt Disney Pictures Walt Disney Animation Studios released "Encanto," a musical movie on Nov. 24, 2021 in movie theaters and Dec. 24, 2021 on Disney+, Disney's streaming platform. 
"Encanto" tells the story of a Colombian family called the Madrigals. Each member of the Madrigal family — with one notable exception — holds magical powers that are called "miracles." Each power is unique, with no two miracles being similar to one another. This power is given to the family members via a magical candle which also allows the house "Casita" itself to come to life. Mirabel, the main character, is the only family member who does not possess her own gift. Even though those around her say she is still a special member of the family, on the inside she does not feel that way. 
Unbeknownst to the rest of the family, the candle is losing power and as a result, the house is in danger of crumbling. When her relatives start to lose their gifts, Mirabel takes it upon herself to save their home from destruction. The adventure starts off with Mirabel discovering more about her family, especially her older siblings, Senorita Perfecta Isabela and Luisa. 
Throughout the confrontations, Mirabel soon finds the girls do not always feel happy nor confident about their abilities. The music smoothly explains their struggles with what people think about how their powers are truly useful. 
After talking with her relatives, "Casita's" really quick and speedy abilities of interacting with people through tiles flying off the roof and stairs morphing into a slide, helps answer many questions that brings Mirabel closer to the truth about the house. With the help of a family secret revealing itself, Mirabel tries to uncover a clue that could help her save the magical house. 
Overall, the movie "Encanto" perfectly explores the idea that whether or not you have any magical abilities or talents, your family will always have your back even in the toughest of times. In all I would give it a 7/10 and recommend watching because of the powerful bond that is shown between the relatives and the unique way of showing that family is everything.
Leave a Comment
About the Contributor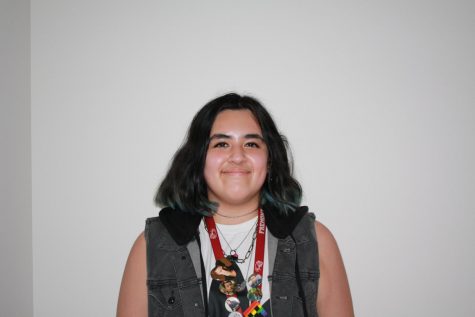 Victoria Duran, Staff Writer
Victoria Duran is a junior and staff writer who is new to journalism but is willing to try it out for her love of writing. Before getting to know her, she seems shy and quiet, but after talking to her, she gets talking nonstop. If she doesn't have any homework to do, she writes her own fiction stories and reads scary novels like one of her favorite authors Stephan King.