The Holidays: popular Gifts for 2020
With the winter holidays coming up, people can not help but think about what gifts they want to get for others this year. COVID-19 has had a huge impact on people's wants and wishes: some people might need a new computer while others just want a fun distraction. With so many stores and websites out there, it can be hard to know where to begin.
COVID-19 has made electronic gifts the most sought over or coveted this year.  While everyone is staying home and socially distancing themselves, the most common thing to do is to use devices, whether it be playing video games, watching T.V. or listening to music. If people are looking to give less expensive gifts than T.V.s, smart speakers and gaming consoles. They can always give a subscription to streaming services like Netflix, Disney +, Hulu, etc or give game memberships like Xbox Live Gold or Playstation plus. People could even gift a Spotify premium membership for a month. While there are tons of gifts available to soak up available free time, there are also gifts to help enhance one's productivity in work and school. If people want to spend a little more on their loved ones to help them out, they could get them a computer upgrade or some headphones that could help them while working online. Having to work from home is always a struggle, so helping friends and family out in that regard can go a long way!
With most people working at home desk supplies are also very popular gifts in 2020. Some gifts high in demand right now include planners, calendars, organizer trays and whiteboards. These are all things that help organize desks which is key to being productive during the day. A tumbler cup (a plastic cup with a lid and a straw) is growing in popularity and can help increase productivity. Tumbler cups are very convenient when on long zoom calls, and help people stay hydrated. A gift that would make the receiver happy and focused would be a rocketbook. A rocketbook is a notebook where people can scan their page with their phone and it will automatically upload what they wrote to their Google Drive. This notebook is also erasable so people can never run out of pages. Giving a rocketbook as a gift can make life dramatically easier for students working at home, allowing them to achieve anything they set their mind to. 
In quarantine, there have been numerous baking trends like banana bread and cinnamon rolls. One of the best gifts to get someone who loves to bake or cook, is a cookbook. Cookbooks are a great gift option because they give the person the opportunity to make new things and improve their skills. If the person in mind wants to focus on perfecting their cooking technique, then a subscription to Masterclass would be perfect for them. Masterclass is an educational website where people can watch videos made by professionals on how to correctly make specific items. Gifts like coffee makers and electric kettles are great for people looking to stay warm in this cold season. So if there is a certain someone in one's life who loves cooking or are just satisfied with a warm beverage these would be the gifts for them.
While working from home, everyone has been feeling overwhelmed and people need time to relax (now more than ever). Some items that can help people relax are face masks and bath bombs. Although this seems like no effort at all, doing simple things like taking baths or putting on a face mask can give people the time they need to take a break. Weighted blankets are a great gift for people who need to relax. These blankets help people calm down because the blanket is extremely heavy, making it feel like the user is receiving a full-on hug.  People can use the blanket on Zoom calls. Another gift that people can use during Zoom calls to keep them calm is an Essential Oil Diffuser. Essential oils like lavender and vanilla are proven to help people relax and calm down, and can even help people get more sleep according to Cathy Wong from Very Well Mind. No matter who people want to give gifts to this year, everyone can benefit from a gift that helps them relax. 
Although this year had a huge influence on what people need, it has also given people the opportunity to try new things. Giving gifts this year, that give others the chance to try new things, is what people should be thinking about whilst looking for gifts. No matter what, the main focus is bringing joy to our loved ones this holiday season.
View Comments (2)
About the Contributor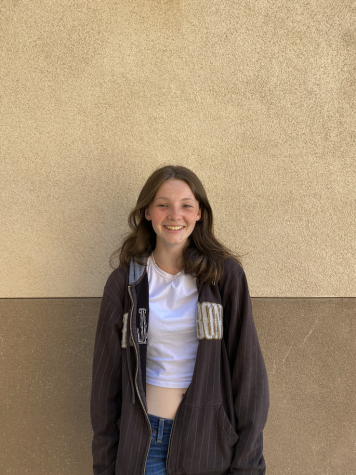 Abby Callahan, Editor-in-Chief
Abigail (Abby) Callahan is a junior and an Arts and Entertainment editor for The Phoenix. She loves to listen to music and watch Netflix. In the future Abby wants to travel across Europe.