The Holidays: three delicious recipes for the holiday season
This year, we are keeping it easy with three fast and delicious recipes because we all have had enough of 2020's madness. During these crazy times, it can be tough getting some downtime to cook yourself some delicious dinner. With that being said you can have a delicious and easy dinner with these three recipes. First off, for the seafood lovers, some tilapia marinated in the smoky sauce are then baked at 400 degrees with a side of white rice and roasted Brussel sprouts. For some extra flavor top the tilapia with some avocado sauce. The second dish is a pesto pasta topped with grilled juicy chicken. Lastly, for vegan or vegetarians, some corn and zucchini squash stir fry with white rice. These dishes are all really yummy and take less than 30 minutes to finish. Hope you enjoy!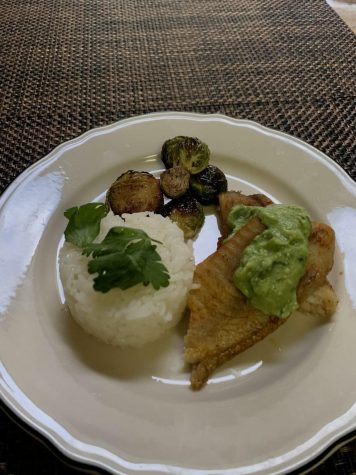 Tilapia 

Smoky sauce: 1tsp of lime and olive oil, 1tsp of paprika, cumin, and cayenne pepper, half a tsp of salt and black pepper

1 cup of rice (your choice on which brand), 2 cups of water, 2 tsp of butter, Tsp of salt, 

Baby Brussel sprouts 

Avocado sauce: ¼ of onion, a hand full of cilantro, two tomatillos, 1 avocado, tsp of salt, (chile serrano opinion for some extra flavor) 
This is a simple dish you can make for a special meal or if you want to spice up your dinner for the week. For this dish, the ingredients above will be needed. Once you're ready to begin the dish, you start by washing the tilapia and dry it with paper napkins. Secondly, begin making your white rice so by the time your rice is done so will your tilapia. If you have a rice cooker you can use that but if you do not have one you can just use a regular saucepan. Have two cups of water in the saucepan at high heat with one cup of jasmine rice, add two tsp of butter and half tsp of salt. Once it begins to boil, cover the top and lower the head. Let that cook for about 20 minutes or until you see that there is no more water left. As the rice is cooking you can get started on the smokey sauce that will be used to season the tilapia. For the smokey sauce, you will need one tsp of paprika, cumin and cayenne pepper. Then a half teaspoon of salt and pepper. Lastly a teaspoon of olive oil and lime. Mix all of those ingredients together and with a basting brush cover the tilapia with the smokey sauce. Preheat your oven to 400 degrees. Place your tilapias on a baking sheet with tinfoil and cover them with the smokey sauce. Place them in the oven for about 20 minutes or until fully cooked. Your baby Brussel sprouts should be clean and washed in water, then cut in half. Once they are clean you want to place them on a baking sheet and drizzle some olive oil, salt and pepper. Send them to the oven with the tilapia. You want to keep an eye on the baby Brussel sprouts until you can see some part of the baby Brussel sprouts burnt. Once you have your tilapia and Brussel sprouts cooking in the oven you should get started on making your avocado sauce.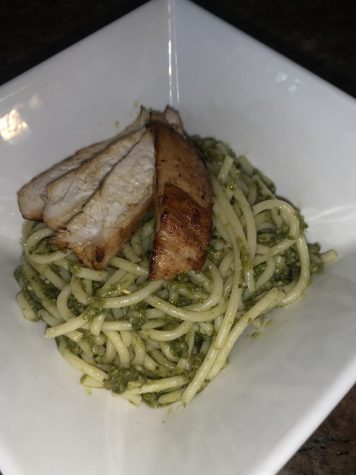 Kirkland pesto ( can use any other pesto too) 

Spaghetti pasta (can use your own pasta too) 

Chicken breast 
This is an easy quick dish that can be made for a cold windy night. First, fill up a soup pot with water and add salt. Once the water is boiling you can add your choice of pasta. The pasta should be soft before you drain out the water. As far as the pesto, you can buy the Kirkland pesto at Costco or use your choice of pesto. For the chicken breast, you just want to season the chicken with some salt, pepper and paprika. Cook your chicken breast whole on a grill pan. Once all sides are cooked take your chicken off the pan and cut it into strips. Once cut into strips, place them back onto the grill pan and cook thoroughly. Once your pasta is ready you can drain out all the water. In a saucepan add your pesto sauce and let it cook for about 2 minutes. Then add your pasta and mix it all together. Once your pasta and pesto are mixed together you can begin placing. That's it! Enjoy!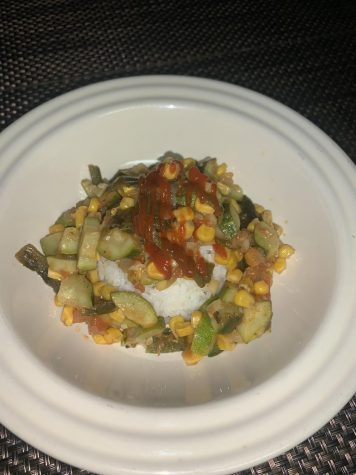 1 can of  corn, two zucchinis, 2 poblano pepper, 1 whole tomato diced, half an onion diced 

One cup of jasmine rice, two cups of water, 2tsp of butter (if you made the tilapia dish you can just use the leftover white rice from that dish for this one) 
This is hands down one of my favorite dishes my mom makes for me, so I've decided to share this recipe with you so you can also enjoy this amazing dish. First, you have to roast the poblano peppers until nicely roasted. Next, once the poblano peppers are done let them rest for about 2 minutes and begin removing the burnt skin off the poblano peppers. Once you have removed the burnt skin off you can cut them into strips. In a different pan add oil and ¼ of an onion. When the onion is cooked thoroughly and it almost looks clear you can go ahead and add your stripes of poblano peppers. Once you have put the poblano peppers, let that cook for about 4 minutes, then add the zucchini. The zucchini should be cut into triangles pieces. Lastly, add half a tomato and half a can of corn. You can add some chicken flavor if you'd like to. Mix all ingredients together well then cover with a lid. Let that cook for about 10 minutes or until the zucchini is nice and soft. For the white rice, you can make it or if you did the tilapia recipe and have leftover rice, you can definitely use that as well. Plate the rice, add in your stir fry and if you'd like, for some spice add some sriracha sauce and enjoy! 
Leave a Comment
About the Contributor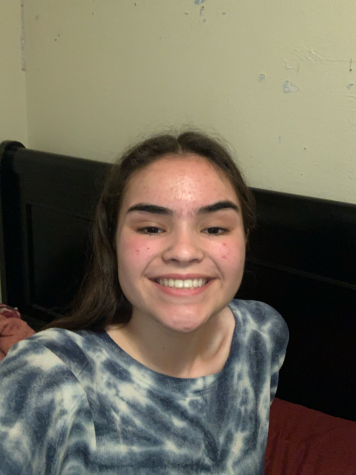 Jissel Alvarez, Staff Writer
Jissel Alvarez is a junior and a staff writer for The Phoenix. During her free time she enjoys being outdoors and enjoying fresh air. Over the course of this year she hopes to improve her writing skills as she enjoys writing.