Dickinson review
The television series "Dickinson" is a show based on Emily Dickinson, an inspiring poet in the 1800s. The show follows Emily exploring the restrictions society has on her gender, not fitting into this time period and fighting to get her voice heard. There are 3 seasons of this show. The third season is still being aired at the time of this writing if you want to go watch the show on AppleTV+. 
Emily Dickinson is played by Hailee Steinfeld — who starred in "Pitch Perfect 2 & 3," "Spider-Man Into the Spider Verse'' and many more shows and movies. Some other important characters are Edward Dickinson (Toby Huss), Emily's father, Emily Norcross Dickinson (Jane Krakowski), Emily's mother, Austin Dickinson (Adrian Enscoe), Emily's older brother and Lavine Dickinson (Anna Katerina Baryshnikov), who is Emily and Austin's youngest sister. Edward Dickinson is played by the actor Toby Huss who has been in a lot of TV shows; but the most notable role he has had is "The Martin Short Show," where he acted as himself for 63 episodes. He has had many smaller roles in shows like "Adventure time," "Sanjay and Craig," "Key and Peele" and many more. Austin Dickinson is played by Adrian Blake Enscoe, who was in the 2014 movie "Grove." Lavine Dickinson is played by Anna Baryshnikov, starring in the 2021 movie "Payback." Emily Norcross Dickinson is played by Jane Krakowski, who has acted in "Ice Age" and a plethora of smaller roles in shows like "Simpsons," "BoJack Horseman," "Robot Chicken" and many more shows. Some recurring guest stars are Wiz Khalifa, who plays Death in the show and Fin Jones who plays Samuel Bowless, the editor of the local paper. Some other recurring characters are Edgar Allen Poe (Nick Krull), Henry David Thoreau (John Mulaney) and Louisa May Alcott (Zosia Mamet). 
The first season was first released on Nov. 1, 2019 on AppleTV+. There are 10 episodes in each season. The first season, we learn what Emily's mother wants for her; her mom is constantly trying to have her married off, but Emily does not want to become a housewife and she is in love with her best friend Sue Gilbert. The problem there is that Sue Gilbert is engaged to Emily's older brother Austin. Later on, Emily got one of her poems published in the paper against her father's wishes but even though the two would keep arguing throughout the season, their bond would grow stronger every time. Regardless of everything, Emily would think about death and she would go on a carriage ride with death himself every night. The first season in my opinion does a great job mixing the drama in with comedy which made the show as a whole funny. I would give the first season a 7.5/10. 
The next season was first released on Jan. 8, 2021, and the final release for that season was Feb. 26, 2021. In season two everyone gets a bit of fame as Sue is enjoying her new lifestyle by hosting parties at her place. Austin gets associated with his father's business and Emily gets her poem printed in the Springfield Republican. Things start to take a turn for the worse when Emily experiences a writing block which hampers her ability to write and her poems. She then falls into a deep depression. With Emily not being able to think, she no longer has Death to haunt her anymore. Overall this season was better than the last one and it does a great job with balancing comedy and drama. The story is very interesting of Emily going from having going on rides with Death every night to having no one is very interesting and Emily getting over writer's block is also great. 
Overall, with the current two seasons, the show is very entertaining. Furthermore, the acting is amazing and you can tell that the actors really love this show with the way they give it their all. My overall rating for the show would be a 8/10.
Leave a Comment
About the Contributor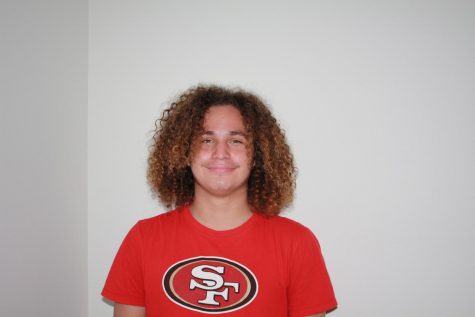 Enrique Alfaro, Staff Writer
I am Enrique Alfaro, I am a staff writer and I am a senior. I play soccer and I support the team Chelsea. I also support the 49ers and Warriors.