Don't Say Gay bill: it's outrageous
On March 18, the Florida State Senate passed legislation prohibiting "classroom discussion about sexual orientation or gender identity" in the state's primary schools. The law, dubbed the "Don't Say Gay" bill by its opposents, was passed by the Florida House last month and now goes to Republican Gov. Ron DeSantis, who has shown support for this and similar bills in the past. It getting past currently seems likely, despite the rightful outrage of many adults and kids alike. 
The bill would prohibit teachers and school districts from discussing gender identity and sexuality in the classroom from kindergarten through third grade, with the objective of strengthening the "fundamental right of parents to make decisions regarding upbringing and control of their children." If signed, this would go into effect into the following school year.
Following these developments, many schools in Florida have been protesting, flying pride flags or having walkouts. "This is going to endanger the safety of our LGBTQ students and adolescents," Sen. Annette Taddeo said during a debate. "We will not stop until this state moves forward and actually values everyone in it, everyone no matter their sexual orientation."
In an emotional speech to the Senate on March 14th, Democrat Shevrin Jones, Florida's first openly gay state senator, urged his colleagues to limit the bill's terms to ensure that education will never be censored. "I ask that you open up your hearts just a tad bit," he said, mentioning how he had been name called in the past for being an openly gay man. "Please, do no harm."
Blocking kids from learning about  LGBTQ+ communities and topics is harmful. A lack of exposure to these topics, especially in young children. This affects their beliefs and reason growing up, feeding stereotypes and biases that could have been easily avoided. This bill is not surprising though, considering Florida's past in censoring the school system.
Another bill in the Florida House of Representatives aims to eliminate "discomforting" gender identity and racial instruction from public schools. The law would provide instructors and state regulators the power to prohibit books or classes on topics including the Civil War, the Civil Rights Movement and the Holocaust. The House bill, along with its Senate counterpart, is part of Florida Governor Ron DeSantis' "Stop Woke Act," which stands for "Wrongs to Our Kids and Employees."
The 'Don't Say Gay' bill isn't the first and certainly won't be the last attempt by Flordia's legislature to censor their own education system. The most we can do is protest and petition to fight these changes. If we never learn from the past, how will we progress? Censoring education through bills such as the "no say gay bill" only feed these untrue stereotypes, and form bias. 
Leave a Comment
About the Contributor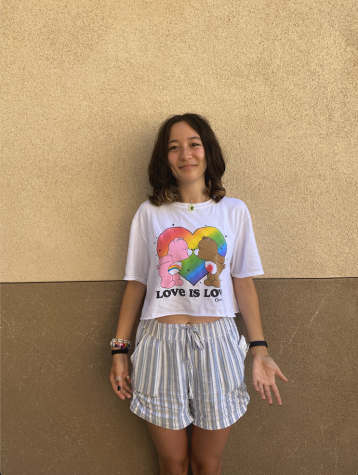 Miyako Grundler, Special Feature Editor
Koko Grundler is a junior and special feature editor for the Phoenix. She loves to play video games, draw and listen to music. She also has a pet lizard named Buddy.