October athlete spotlight: Nicole Stepanenko
Playing team sports is not an easy feat, and being a team captain means even more responsibility towards your teammates. FHS Varsity Girls Volleyball Team Captain Nicole Stepanenko is quite familiar with this concept.
Stepanenko is currently a senior at FHS, and has been the team captain for Varsity Girls Volleyball since her sophomore year. She is the first in her family to play the sport and has done so competitively for eight years. She tried out a variety of sports before joining volleyball.
Stepanenko states that there are two important qualities to have as an athlete in volleyball or other team-based sports: patience and open-mindedness. 
"I think [one of] the most important qualities is patience because it is a team sport, and you're not gonna get anywhere if you only get aggravated towards your teammates," Stepanenko said. 
This holds true for many group situations, as playing with a team is not easy if people have a high temper or low patience with others, or they choose not to participate in team bonding. She mentions the importance of being able to collaborate well. 
Being able to form a cohesive and strong team bond requires the ability to understand and empathize with others, knowing that everyone slips up once in a while and no one should be put down for that. Additionally, she explains that being a hermit and relying only on one's own skill to succeed is not auspicious to a good relationship with teammates. 
"Not everything depends on you, you kinda have to work together to be successful," Stepanenko said. "So you definitely have to be open minded and listen to others, even when they're younger. Be open to everyone's advice." 
Stepanenko played for varsity her freshman year and she says this year has been the hardest so far. Furthermore, with six practices a week and three hours after school, she has had to push through much of the physically and mentally draining aspects of playing the sport. Stepanenko says because she is captain and one of the most experienced on the team, it is more difficult because there are many younger  and less experienced players.
However, with time and patience, Stepanenko says that it is good to learn how to work with others.
"This year is definitely more difficult because we have a lot of freshmen, and it's a much younger team than before," Stepanenko said. "Up to now, I've been the youngest varsity player, roughly. And now that I'm a captain, with people who are a lot younger than me, it's more difficult because now they are less experienced." 
Stepanenko concludes that she appreciates the experiences she gained from being captain, especially this year. 
"But I think it's definitely a good learning experience for me, how to deal with people," Stepanenko said.
Due to her impressive performance in volleyball games, Stepanenko was recently nominated for Bay Area News Group Girls Athlete of the Week. 
"I was not expecting it at all," Stepanenko said. "I was very surprised. I didn't think volleyball players were even considered because it is hard to keep statistics [of plays]."
She has accomplished several things outside of volleyball as well. 
"One of my biggest achievements is that I won the National Russian Essay Competition for two years in a row, which is an essay competition for non-native Russian speakers," Stepanenko said. "I wrote [the essay] about volleyball."
Stepanenko's relationship with the sport is certainly positive and a highlight of her high school years. 
"Volleyball has been such an amazing experience," she said. 
Though her time with FHS's girls' volleyball is coming to an end due to graduation, Stepanenko aims to continue playing the sport in the future, college and beyond.
Leave a Comment
About the Contributor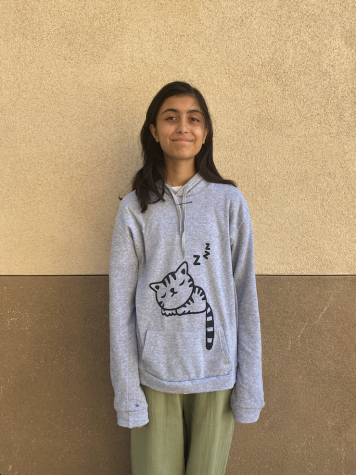 Maryam Girowall, Staff Writer
Maryam is a sophomore and Staff Writer for The Phoenix. In her increasingly diminishing free time, she enjoys drawing, playing piano, and one of the millions of her other art-related interests.