San Francisco Giants legend Buster Posey retires
Not since the days of Barry Bonds, Willie Mays and Willie McCovey has a number been so recognizable in San Francisco Giants' history. For the past twelve years, the number 28 has been worn on the backs of orange and black jerseys by thousands of fans across the Bay Area. That number belongs to Buster Posey, the Giant's Gold Glove catcher, who on Nov. 4 announced his retirement from Major League Baseball.
The news had shocked the public tremendously as Posey not only is one of the faces of the ballclub but because this past 2021 season had been one of his best. A batting average of .304 with an .889 on-base plus slugging and 18 home runs. Career-wise, Posey had accumulated a .302 BA, .831 OPS and 158 HR.
After twelve seasons playing in the MLB with the Giants, Posey stated his desire to step away from the physical demands of the game and instead spend more time with his family rather than continue with the final year of his $22 million contract.
Without number 28 as the Giants' star catcher, the team plans to move forward with Joey Bart — who was a reliable asset for the ballclub during the 2020 season — as their starter and Curt Casali as a potential second. Patrick Bailey and Ricardo Genoves are other candidates the Giants have been eyeing to help fill the spot that Posey had left.
As his story with the Giants comes to an end, looking back at Posey's beginnings and his legendary journey with the team can help put into perspective just how valuable of a player he was.
Before he was a staple within the orange and black roster, Posey had made his debut in 2009 as the Giant's fifth overall pick, drafting him from Florida State University in 2008. Though his first appearance ended in a strikeout, his second upbat later in the year rewarded him with a single to right field — his first Major League hit out of exactly 1,500. His rookie career would continue the following year after being called up from Triple-A Fresno and going 3-for-4 in his first game back, setting the tone for a season that would reward him with the National League Rookie of the Year honors. This momentum would soon roll over into the "Orange October" postseason as he would help contribute to the Giant's first World Series title 56 years after the team's move from New York to San Francisco.
2011 was a year of great despair for fans after his home-plate collision with Scott Cousins, resulting in a broken bone, torn ligaments and fractured fibulas in his left leg, putting a temporary pause in his career. After time in rehab, Posey bounced back stronger than ever in the 2012 season with many clutch moments, earning him the NL Most Valuable Player award and a second World Series championship title.
Posey further propelled his status and the Giants place in the names of teams to fear in this golden age of the Giants in 2014, catching all but two innings in the 160 innings played during the postseason. It also happened to be the same year that San Francisco had clinched their third World Series win.
While the Giants have not had a World Series appearance since, Posey in 2016 was awarded the NL's Gold Glove Award behind the plate triumphing Yadier Molina's seven straight wins as the reigning catcher of the 2010s.
Posey would again take a break during the heights of the coronavirus pandemic to stay safe and spend time with his extended family until returning for the 2021 season and as a hitting king.
During his time with the Giants, Posey has caught for SF pitching icons such as Matt Cain, Tim Lincecum, Madison Bumgarner and so many more. He has caught a perfect game, two no-hitters, numerous shutouts and has given out equally as many "Buster Hugs".
His "Buster Hugs" and overall kind demeanor has made an impact on any player that has encountered him. Golden Glove Shortstop Brandon Crawford wrote an emotional tribute on Nov. 23 courtesy of The Players' Tribune, respecting Posey's decision to retire and thanking him for all that he has done.
Outside of baseball, including his list of endearing commercials, the catcher is loved for his work as a philanthropist, creating a pediatric cancer fund with his wife called BP28 which just this year raised over a million dollars for the Posey Family Grants at UCSF Benioff Children's Hospital.
Buster Posey was many things during his time as a Hall of Fame worthy professional ballplayer — he was the backbone and forefront of the Giants '10s dynasty, a skillful starting catcher, a humble leader, an active supporter and most importantly a friend. He has paved history and will be the standard that future Giants players will strive to reach. Though he may be Atlanta-born, he always has and always will be forever Giant.
Leave a Comment
About the Contributor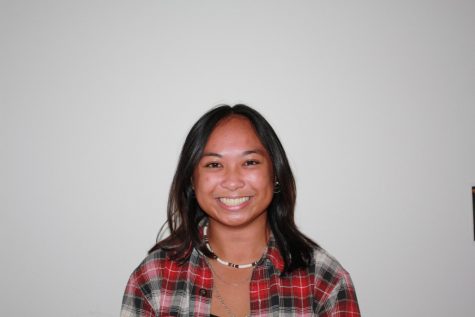 Kiana Thelma Devera, Staff Writer
Senior KT Devera is a staff writer. When she isn't drowning in responsibilities, KT loves spending time with her cousins and going on road trips with friends. KT is currently on a Rihanna boycott until she releases her ninth album.