The 2022 Oscars
The Academy Awards, also known as the Oscars, are awards for outstanding performances and accomplishments in film. They are organized by the Academy of Motion Winners. Winners are chosen from several categories that range from directing to acting to makeup and hairstyling. The Oscars are not to be confused with the Golden Globes, which is an award ceremony for exceptional acting performances in television. The Oscars have been held in many different theaters throughout the years. Since 2002, they have been at the Dolby Theater, formerly known as the Kodak Theater in Hollywood, California. Over the years, the distinguished award ceremony has evolved a great deal. 
The first Oscars ceremony was on May 16, 1929, hosted by Douglas Fairbanks, an American actor, screenwriter, director and producer, at the Hollywood Roosevelt Hotel in Los Angeles, California. There were only 270 guests, and each ticket cost only $5. To compare, this year, there are going to be about 2,400 guests, far more than there were 73 years ago, even with the Academy reducing the guest list due to COVID-19. Additionally, tickets now cost anywhere from $150 to $750, depending on where your seat is. The Oscars are now known as an extravagant and controversial affair. 
The 2022 Academy Awards were held on Sunday, March 27. The awards ceremony returned to the Dolby Theater after last year, when it was at Union Station in Los Angeles due to COVID-19 restrictions. The Oscars this year were hosted by Regina Hall, Amy Schumer and Wanda Sykes. There were 23 categories this year, which is one less than the previous 24 categories, due to sound editing and sound mixing being combined into one category. 
The top five Oscar awards, also known as the "Big Five" are Best Picture, Best Director, Best Actor, Best Actress, and Best Screenplay. The winner for Best Picture went to CODA, which stands for 'children of deaf adults.' The film is about Ruby, a 17 year old girl played by Emilia Jones, who is the only hearing member of her family. The story follows Ruby, who impulsively signs up for choir at school and discovers her zeal for singing. 
Jane Campion won Best Director for her Western psychological drama film The Power of the Dog, making her the third woman ever to win the award. She is also the first woman to be nominated twice for Best Director. Even more impressive, this is Campion's second Oscar; in 1993, she won Best Original Screenplay for The Piano. 
For Best Actress, the award went to Jessica Chastain, who starred as Tammy Faye in The Eyes of Tammy Faye. The movie is about Tammy Faye, a real person, and her husband, Jim Bakker, as they launch their own religious broadcasting network and show called PTL Satellite Network and The PTL Club, respectively. The film watches as scandals unseat their business. 
The winner for Best Screenplay was Belfast, a semi-autobiographical film directed by Kenneth Branagh. The film is set in Northern Ireland in the late 1960s, when tensions between Ireland and England were high due to religious differences. It tells the story of a family, who, for their safety, must flee Belfast, the only home they have ever known. 
Perhaps the most shocking moment of the night was the altercation between Will Smith and Chris Rock. While on stage, Rock made a joke about Smith's wife, Jada Pinkett Smith, saying that he "can't wait" to see her in "G.I Jane 2," referring to Pinkett Smith's shaved head. The actress, who suffers from alopecia, a disease that causes a person's hair to fall out, rolled her eyes, seeming to dislike the joke. Then, Smith walked onto the stage and slapped Rock. When he was back in his seat, he yelled,
"Keep my wife's name out of your f*ck*ng mouth" 
Rock, along with the rest of the audience, seemed taken aback, and said,
"Wow, dude, it was a G.I Jane joke" which only seemed to anger Smith even further.
Rock, however, kept his composure and turned back to the audience. Without missing a beat, he cracked a joke and went on to present the award for Best Documentary. 
Later in the evening, Smith won Best Actor for his performance in "King Richard," in which he portrays Richard Williams, the father of tennis champions Serena and Venus Williams. In his speech — made just minutes after the incident with Rock —  he apologized for his actions. A few days later, he issued a formal apology on Instagram to Chris Rock, the Academy, its producers and everyone watching. 
However, Smith's actions have raised important questions about many issues. Are comedians safe while performing on stage? How should parents use this as an example when teaching good behavior to their children? Were Smith's actions supposed to be a display of masculinity and chivalry? If so, what does it say about the expected behavior of men and violence? Finally, why can an actor get away with slapping someone on live television and win a prestigious award no more than an hour later? Over the years, it is clear that the Oscars have become a contentious concern that needs to be improved. 
Leave a Comment
About the Contributor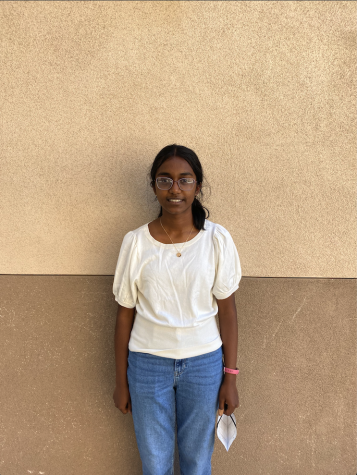 Pranathi Thalasila, A&E Editor
Pranathi is a junior and an A&E Editor for the Phoenix. She enjoys hiking, taking funny photos of her friends, and baking (though her attempts do not usually go very well). She also likes listening to Taylor Swift while writing her articles for Journalism.