Superintendent Bove retires after 32 years
After 32 years with the district, including 15 as superintendent, FUHSD Superintendent Polly Bove plans to retire before the end of this school year. Throughout her time with the district, Bove held many jobs and impacted the lives of many staff, students and community members. Truly, her absence will be felt by the district.
Bove started teaching early in her career after double majoring in math and rhetoric in college, and working in computer science in San Ramon.
"I liked it," Bove said. "It kind of hooked me. I couldn't help it. I really loved it."
When Bove started working for the FUHSD, the district looked a lot different than it does now, which was both a product of its time (the early 90s) and the workplace culture (later on, she would start out as interim superintendent because her predecessor and a member of the Board had a falling out). Given her background in math and computer science, Bove first worked to help update the district technologically.
"We were working using tape and cards with the county office; we didn't have computers in schools, when I came over," Bove said. "I thought, are you kidding me? We got computers over there, you don't have it in Silicon Valley. This is crazy, so I was lucky to [have worked in San Ramon], since I instituted it over there, I could bring it here. So I did that work."
Throughout her first 17 years with the district, Bove was an assistant principal for Homestead High School, worked with the special education programs and within the District Human Resources department, among other things.
"I pretty much held every job there was to hold here," Bove said. "I found each one interesting and helpful […]. There were new things I could learn, new things I could bring to the table, but there were things I had to learn and try to adjust to. And then by accident, I became superintendent."
Being superintendent was made easier by the vast district experience Bove had acquired throughout the years. For example, Bove's work with the special education programs within the FUHSD required her to think about how all students learned in different ways, and the district's responsibility to serve them all to the best of their ability. She believes that all students have the ability to learn at high levels, and that related FUHSD programs should reflect that. For example, she helps run the postsecondary program, where 18 to 22 year olds can still receive education after high school. Working with many different departments, like the special education one, helped shape the way Bove would eventually run the district.
"It was being thrilled and enjoying and learning a lot from every opportunity I had, and it was just astounding," Bove said. "Every time I had a new job it was just invigorating and astounding and fun."
COVID-19 was not the first crisis Bove faced throughout her time with the district, but it was certainly the first global pandemic. One of her struggles with taking action as a district revolved around her instinct to define a problem, then go about solving it, which was impossible given the unpredictability of the pandemic.
Eventually, the district decided on distance learning, which Bove understands was taxing on everyone involved, specifically on students.
"[However], I'm super proud of the fact that last year, for the most part, most of the classes kept going," Bove said. "Most of you had teachers at the other end of the line talking to you."
In contrast to students having to stay at home, Bove decided to come to work.
"I just made a decision, I was going to come to work every day," Bove said. "If I was going to ask everyone in our system to come to work every day, I was going to come to work every day. I felt like I had to model that. And you know what, every one of our principals did that too. They were amazing."
Other supposed challenges that Bove had to face as superintendent include the 2004-05 economic downturn and the 2008 economic crisis. For the former, she prevented union fighting by creating a revenue sharing model; for the latter, the district did not fire any employees.
"Out of that adversity, we came together," Bove said. "So was that the biggest challenge, or was that the biggest opportunity?"
Throughout her time with the district, Bove made many positive impressions with those she worked with. FHS principal Bryan Emmert highly regards his first interaction with her (which was over 20 years ago), while he was summer school principal and she was working for the district.
"She took the time to come and talk to me and really get me thinking about some of the workings of the district," Emmert said. "I was super impressed because she took the time, I was just [one of] a number of teachers at Cupertino High School, who didn't have any direct connection [to her]."
Emmert (and the rest of the FUHSD principals) and Bove meet weekly, and Bove is always available as a sounding board for any ideas or questions that Emmert might have. Bove especially has helped shape the construction of new buildings at Fremont. Having remodeled around 27 homes (a hobby of Bove's), she offers input on the design of the new buildings (wanting to keep everything in Fremont's distinct style). She also takes the time to reflect on how her decisions might affect future students (as the district has grown a lot). For example, she offered ample input on the cafeteria and B building construction and the current Shannon Theater construction.
"One of the things I've really been impressed with throughout the years is just her ability to connect with people, to listen [and] to hear," Emmert said.
Although FUHSD Student Board Representative and Fremont senior Antara Chugh has only known Bove for the better part of six months, she has still made an impression on her. Bove and Chugh both attend every board meeting, and Bove's leadership skills are on full display.
"I've had the pleasure of getting to know her really well this year, and it's just been really amazing," Chugh said. "She's a really inspiring person. She's like a girlboss in the best way."
Chugh specifically notes Bove's ability to lead the district without much conflict or fighting, which may differ from other districts.
"I think her best quality [is that] I feel like when you talk to her she can take control of a situation," Chugh said. "She still has so much empathy towards the people she talks to, and you feel like when you tell her something she actually cares about it."
Like Emmert and Chugh, FUHSD Board of Trustees President Naomi Nakano-Matsumoto's experiences with Bove can assuredly be described as positive. Since the superintendent is the board's only employee, Bove and Nakano-Matsumoto worked together often.
"Superintendent Bove is an innovator," Nakano-Matsumoto said. "She is always thinking [about] what's best for the school district, and how to make it the best for the students, to learn and to thrive."
Bove's lasting impact and positive influence on this district affected the lives of many, including, but not limited to administrators, students and the board alike. She cared about this district for a very long time. The foundations and good habits she built across the entire district will surely assist whoever her successor is.
"I think change is good," Bove said. "I don't need to leave [the district] and try to preserve it; I'm actually pretty excited about seeing what it could be. Because I care about it. […] I think it's going to be good."
Leave a Comment
About the Contributor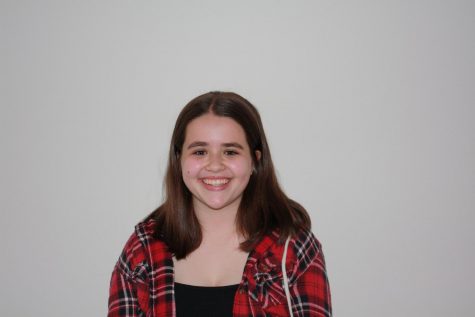 Emily Wilson, Staff Writer
As an Editor-in-Chief, senior Emily Wilson is one third of the Phoenix upper management.  She often jokes about being emotionally dependent on NBA basketball (go Nuggets), but she actually is, to a rather depressing extent. She thinks "I Bet You Think About Me" is the best vault song from Red (Taylor's Version).