FBLA's clothing drive: Maximizing material
It is safe to say that to most high school students, fashion matters. Every morning, most Fremont Firebirds carefully plan out their outfits for the day — which color combinations are aesthetically pleasing, what accessories to feature and if that one particular piece of clothing needs to be retired. 
The Bay Area, in particular, embodies a fast fashion society: a clothing industry business model of producing at mass quantities to sell at low costs to the high-in-demand public. It stems from fast changes in fashion, a fast production rate, fast decision making by consumers, fast deliveries and overall quickly worn-out garments. More often than not, these clothes are disregarded after a couple of uses, and a couple of months left in a closet leads to them eventually being thrown away — a feeling that many can regrettably relate to.
From January 31 to February 18, FHS' Future Business Leaders of America community service project chairs Caitlyn Chan and Claudia Escorcia, held a clothing drive in hopes to remedy this problem. The project strove to collect at least 50 pounds worth of both new and lightly used clothing to donate to Hope Services Thrift Stores, which raises money for Hope Services' programs for people with developing disabilities. In conjunction with the last day of the clothing drive, FBLA held a clothing repurposing event to recycle old clothes and fabric into new crafts such as dog toys and blankets that will be donated to charity. 
FHS junior Escorcia, one of the project chairs who led this event, hopes to bring awareness to the dynamics between clothing sustainability and fast fashion.
"Fast fashion is a big danger to the environment because in our culture we always have to buy the new clothing and a lot of the time you may not even use it that much," Escorcia said. "So [we're] calling attention to the fact that this is a harmful industry. A lot of [polluting] waste comes out of it as well. […] [Buying] less from those brands tells them that they have to change their practices." 
While one may not think too much about the process of producing fast fashion clothes, the environment is continuously sacrificed for our stylistic needs. Approximately 10% of humanity's carbon emissions are released by fast fashion producers and 85% of textiles are thrown into landfills. This in turn either dries out water resources or pollutes them, resulting in large numbers of microplastics that raise concerns for the health of nearby areas. 
"I definitely understand the temptation of wanting to buy fast fashion […] but […] learning about it has made me realize that I should focus on wearing the clothes I have," Escorcia said. "That is the most important part. […] You already have them, so you should use them."
Resisting the urge to frequently replace undesired clothes is a tough choice and giving up some of our favorite brands may be even harder, but Escorcia hopes to call attention to turning towards more sustainable brands and habits. 
Sophomore Aljona Reyno, for example, tries to implement clothing sustainability practices. 
"I usually avoid fast fashion shops and whenever I do shop online I use [Good on You] to check their [environmental] impact," Reyno said. "I go thrifting a lot but whenever I do buy from big clothing brands and they don't fit me anymore I usually give it to someone else, ship it [to my family in the Philippines] or donate it."
At the clothing repurposing event, FHS students came together to make a variety of unique items with materials often left to be disregarded. 
"We just received some fabric from this nonprofit called FabMo [a nonprofit based in Sunnyvale] and what they do is that they get fabric from interior designer warehouses that were supposed to get thrown away but instead they collect them and sort them out," Escorcia said. "They were kind enough to donate some fabric to us so we're going to use that to make different crafts."
For senior Medha Kotra, there is always room to improve and adopt better sustainable practices.
"I think [clothing sustainability] is applicable to everyone," said Kotra. "It is also pretty easy to implement so if everyone knew about it I think it would make a pretty big difference."
Recognizing the amount of success FBLA has accumulated from the drive and repurposing event, Escorcia hopes to host the drive again next year, now having experience and feedback to build off of for improvements. Escorcia, FBLA and the environment as a whole hope that by taking time out of their day to be more aware of their clothing choices, everyone can help the world one less shopping spree and one more dog toy at a time.
Leave a Comment
About the Contributor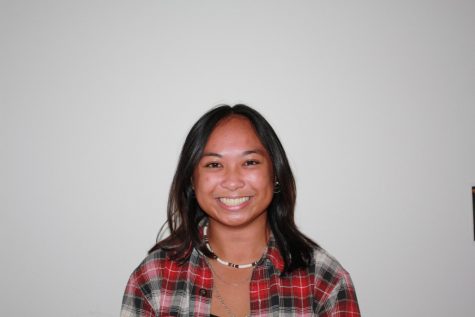 Kiana Thelma Devera, Staff Writer
Senior KT Devera is a staff writer. When she isn't drowning in responsibilities, KT loves spending time with her cousins and going on road trips with friends. KT is currently on a Rihanna boycott until she releases her ninth album.