Taylor Swift's new peak
"Taylor Swift is the Music Industry,"  a sentiment that has been echoed by Taylor Swift fans, or "Swifties," for years. The term was first coined for her in 2014, but now, nine years later, the sentiment still rings true. Arguably one of the biggest pop stars of all time, Swift's genre-spanning discography has amassed the most streams of any female artist on Spotify, all while her music was removed from the streaming service for three years. Her ongoing Eras Tour is also being heralded as one of the biggest tours of all time, with Swift performing to sold-out stadiums every weekend and no end to her career in sight.
Taylor Swift moved to Nashville at 14 to chase her dreams of becoming a country superstar. A small-town girl from Pennsylvania, she became the first artist signed to the newly formed label, Big Machine Records. Two years later, in 2006, she released her self-titled debut album, "Taylor Swift."
In 2008, Swift released her sophomore album "Fearless," which became the most-awarded country album of all time. Two years into her career, Taylor Swift was already a household name. However, her newfound fame was not without drawbacks. People began calling into question her songwriting talent, as well as criticizing her dating life. In response, Swift released the entirely self-written album "Speak Now," which featured songs such as "Mine" and "Mean" which were covered in the hit television show "Glee." 
However, Taylor Swift completely shifted tracks in 2012, releasing "We Are Never Ever Getting Back Together," the lead single for her next album. The pop-infused track was a completely new sound for Swift, and fans were not sure how to feel. When her album "Red" was released, it was a collage of different sounds and emotions. "Red" was pop, country, sad, beautiful and tragic. However, critics criticized "Red" for its lack of "sonic cohesion," and fans of her old sound felt like she was abandoning her roots. 
In 2014, Swift made the full transition to pop, releasing "1989," and was officially christened "the Music Industry." The album was inspired by the synth-pop of the 80s and was named after Swift's birth year. "Red" had eased Swift into pop, but "1989" was when she fully embraced the genre. It featured three number-one singles and, up until very recently, was known as Swift's peak era. You couldn't go into a Starbucks at the time without hearing "Blank Space" or "Shake it Off." However, two years after the release of "1989," Swift disappeared. 
One year later, Taylor Swift cleared out her entire social media account and began teasing her comeback album. Soon after, "Reputation" was released. Swift returned with a much darker, more hip-hop-influenced pop sound, as well as a grungier aesthetic. With "Reputation," Swift embraced the snake imagery Kim Kardashian had used to smear her name. Its follow-up, "Lover," was almost the opposite. The first album with a new record label, Swift embraced the bubbles and glitters and butterflies that were essential to her and stepped into the daylight.
In 2019, Swift faced a setback when her former record label, Big Machine Records, along with the rights to her first six albums, were acquired by Scooter Braun. This took all of Swift's creative freedoms from her first six albums and limited the income she received from streams. Although Swift was offered the chance to work for Braun to reclaim her masters, she refused and instead began the process of re-recording all her albums.
Taylor Swift spent 2020 crafting the quintessential quarantine album. "Folklore" was released on July 24, 2020, less than 24 hours after its announcement, and it was Swift's biggest sonic shake-up since her switch from country to pop. "Folklore" was a muted indie-folk album with none of the blaring pop that had made up Swift's sound for the last six years. Its sister album "Evermore" was released only five months later. Because of COVID, "Folklore" and "Evermore's" themes resonated with whole generations. They were Swift's first non-autobiographical albums but their stories were so profound and relatable that anyone could latch onto them. "Folklore" marked Swift's third Album of the Year award, tying her with the most AOTY wins of any artist. 
After "Evermore," Swift began undertaking the process of re-recording her first six albums. She first released the "Fearless" re-recording, which was aptly named "Fearless (Taylor's Version)." It was an exact recreation of "Fearless Platinum Edition," only with 6 additional never before heard tracks. These tracks were called "vault tracks," and were either scrapped or never recorded before the release of the original album. Swift found her old songs and recorded them for the new albums. "Red (Taylor's Version)" was next, and it was a smash hit. The album had 9 "vault tracks," including a collaboration with Phoebe Bridgers and the original 10-minute version of the fan-favorite song "All Too Well." "Red (Taylor's Version)" shattered records on its release day, becoming the most streamed album in a day on Spotify and earning Swift the title of the most streamed woman on Spotify ever.
The success of "Red Taylor's Version" was rivaled only by the success of Swift's next album "Midnights." Taylor Swift released her tenth studio album "Midnights" at 32 years old, marking her return to pop. The standard version of "Midnights" was only 13 songs long, but Swift surprised fans by dropping seven more songs three hours after release as a part of the "Midnights (3 a.m. Edition)." For the first time ever, an artist occupied the top 10 on the Hot 100 and broke a string of other streaming, vinyl and chart records, including many records she had set previously, such as the most streamed album in one day and most streamed artist on Spotify. 
Swift's success seems to be reaching greater and greater heights, and that is because she is able to be fluid in her artistry. She is an impressive singer-songwriter who has both a sharp business mind and a strong artistic instinct. Swift's own words say it best, "I will never change, but I'll never stay the same either."
Leave a Comment
About the Contributor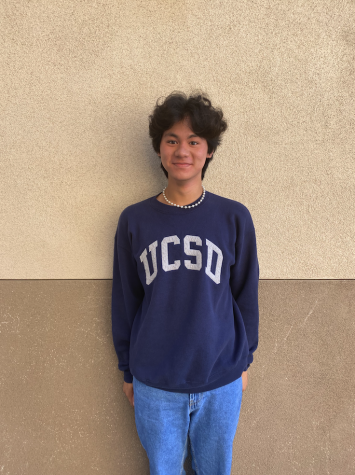 Lucas Li, Staff Writer
Lucas Li is a sophomore and staff writer for The Phoenix. Lucas loves listening to music, and he also plays the guitar. In his free time, he enjoys spending time with his dog.