Women's History Month: Highlighting women-owned businesses
Women have always had it harder than men, and this is also the case for female entrepreneurs. Succeeding as a  female entrepreneur can prove to be extremely challenging as females struggle to be taken seriously in male-dominated industries. Male entrepreneurs heavily outnumber female entrepreneurs in almost all industries. Even though female-led companies have increased by more than 55% since 2008, women-run businesses still only attract 2% of all venture funding in the U.S. and the U.K. Here are two impeccable female entrepreneurs who not only run the leading companies of their industries but are also billionaires.
In 2013, Melanie Perkins founded Canva, a free online graphic design platform, alongside Cameron Adams and her now-husband, Cliff Obrecht. Canva allows users to create a variety of graphics and visual content in a much less tedious way than tools like Adobe. It has made a significant impact around the world, boasting more than 60 million monthly active users across 190 countries, but the road to the company's success was a long one. 
In 2006, Perkins and Obrecht first came up with the idea for Fusion Books, an online platform where students can collaborate to create their school newspaper or yearbook. Perkins used Fusion Books, which is still active today, as a stepping stone for her dream startup, Canva. In 2010, the founders were able to build connections in Silicon Valley with the help of Silicon Valley investor, Bill Tai. After avid networking in MaiTai, Bill Tai's retreat for business investors and entrepreneurs, Perkins and Obrecht gathered investors and started building Canva's design platform.
In 2012, with the help of their tech advisor and the co-founder of Google Maps, Lars Rasmussen, the couple found tech co-founder, Cameron Adams, and tech developer, Dave Hearnden. After the first round of funding, Canva received over $1.5 million and Perkins was able to achieve her dream of launching a one-stop graphic design platform that is Canva, in 2013.
Melanie Perkins has a current net worth of $6.5 billion, with Canva being valued at $40 billion: it has not even been a decade since it went live.
Founded in 2006 by Emily Wojcicki, 23andMe, Inc. is the leading company in the Biotechnology Genetic genealogy industry. It is based right here, in Sunnyvale, California, and specializes in at-home saliva test kits that can test for genetic predispositions, ancestry and inherited traits.  After 15 years of selling saliva tests, the genetics testing company went public on June 17, 2021, by merging with a special purpose acquisition company created by Virgin Group's Richard Branson. Emily Wojcicki acquired the billionaire status when 23andMe, Inc. went public and became valued at $3.5 billion, with its shares rising by 21%. While she has become one of the most successful people in the industry, this was not always the case.
Wojcicki was raised in Palo Alto by illustrious parents and went on to pursue a career on Wall Street after graduating from Yale. In 2007, one year after she launched 23andMe, Inc., she married Sergey Brin, the co-founder of Google and one of the richest people in the world, but they got divorced in 2015. Wojcicki recalls, in an interview for Fortune's December/January 2021 cover story,  that while she was married to the tech mogul she was often ignored despite having a successful career herself.
"There are people who wouldn't talk to me for years and years," she said. "I remember those days really well."
Women are undeniably looked down on regardless of their achievements and have a hard time succeeding in male-dominated workplaces. Female entrepreneurship is on the rise nevertheless, and Wojcicki has made great efforts to promote this growth by investing in numerous female entrepreneurs.
"Having been surrounded by money for a while, I have seen that it's heavily male-dominated," Wojcicki said. "I think that you have a lot of women out there who have been underdogs for a while, and are going to drive change."
Leave a Comment
About the Contributor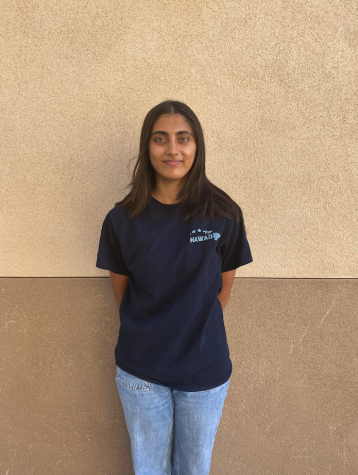 Smera Jain, News Editor
Smera, a sophomore, is an Online Editor. She enjoys painting, playing guitar and watching TV in her free time.