The coronavirus new normal from a student lens
Allow me to give you some perspective — March 13 of my sophomore year, the coronavirus outbreak was just publicly declared as a national emergency concern. I remember being in the journalism classroom, closely surrounded by friends with the only impending worries in my foreseeable future were how to start my college applications. Like many of my other classmates, I thought lockdown would be a passing moment — that class would be back in session and everything would go back to normal. 
Two weeks of an impromptu break turned into two years and now being a senior, while I have left and returned to campus, COVID-19 never did. At the time of this issue's publication, there have been more than 250 COVID-19 cases at FHS and a daily average of around 4,000 cases in Santa Clara County. Classrooms are partially empty due to student and teacher absences and the line to take a COVID test hugs the back sides of the A-building and stretches to the front of the B-building. My impending worries are no longer college decisions but rather what the foggy, ambiguous future has in store for me. I often wonder about who is infected and who I should distance myself from — the variability surrounding when this pandemic will end makes me often wonder how to keep my little brother safe. These are the factors that contributed to altering parts of my life that I may never get back. 
High school is supposedly the four "best years" of my life, but when I make the effort to look back in my memory, I instead see that a significant portion of those so-called "best years" being behind a TV, laptop or phone screen — planned events, opportunities and interactions, replaced by staring at improvised digitized assignments that I barely understood, and pixelated versions of people I used to see in-person five days a week. Time somehow continued while the world was stagnant and the mental health of many had reached deep lows. 
Even as I look back to see how unconventional my high school experience has been and how different of a place I have ended up in than I had expected, I can still appreciate the unexpected gains from my losses instead of wallowing in despair. In these unplanned pocketed moments of time, many of us got through in our own, therapeutic ways. Some picked up old hobbies, started new passions, indulged in different things, made new discoveries or embraced self-care. We are all changed people as we have redefined what it means to live in our society today. 
For me in particular, the amount of time I was given to progress and expand is something that I am grateful for. The person I am in 2022 is not the person I was in 2020. I cannot imagine where in my life I would be with the amount of self-growth I had achieved, though I also can not imagine repeatedly undergoing the sheer restlessness and stress that this time had subjected me to in order to get there. 
It is cliché to say that everything happens for a reason and in this case, many things still remain unclear. The real concrete fact of the matter is that COVID-19 will not go away because you want it to. The pandemic that we are all living through will go away when work is put in. Vaccinations, self-quarantining and proper masking make up the trifecta of lowering the risk of this long-enduring predicament. 
For the sake of health and safety precautions, much of my high school life will be defined by nonexistent dances, canceled trips, at-home classes and a lot of pastimes and hard times. Wherever there are downfalls, there is also the climb back up. Us students learned the best we could, passed onto the next year and we eventually came back to school with a stronger drive than before. 
There is no going back to normal as the definition of normal has transformed to mean something new. Normal is not composed of the same conditions we were in two years ago. We have collectively gone through three different variants of this virus and too much history to consider it so. Until COVID-19 is reduced to something resembling the common flu, masking, distancing, isolating and other protective measures are our new normal. People, despite their loss, are persevering through a rapidly changing environment — building forward and not going back.
Leave a Comment
About the Contributor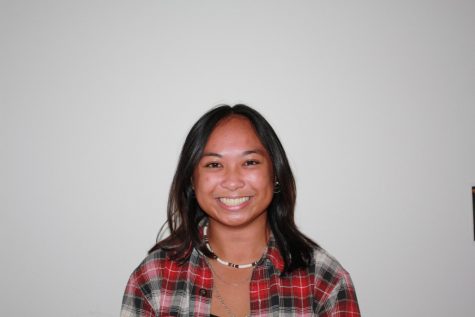 Kiana Thelma Devera, Staff Writer
Senior KT Devera is a staff writer. When she isn't drowning in responsibilities, KT loves spending time with her cousins and going on road trips with friends. KT is currently on a Rihanna boycott until she releases her ninth album.